February 24, 2011 by
Lisa Oshima
|
Uncategorized
I spent last week in Barcelona for the GSMA's Mobile World Congress.  Here are some of the highlights…
Attendance at this year's Mobile World Congress was up over last year by nearly 20%, and it showed.  There were more than 60,000 participants from more than 200 countries in attendance, and Fira Barcelona was thumping Monday through Wednesday, with traffic slowing a bit on Thursday (based on my tour of the show floor).  Even better, the GSMA reported that developer attendance more than doubled this year with more than 14,000 registered developers in attendance, and App Planet saw more than 45,000 visits, demonstrating that the mobile developer ecosystem is alive and well.
One of the most exciting thing from my perspective was to see how large Google's presence was at Mobile World Congress this year. It was the first year that Google had a booth, and it didn't disappoint…. For starters, the booth was ENORMOUS… And, it was full of pods featuring Google's Android partners.  There were huge Android figures everywhere – including one nestled next to a big adult-sized playground slide: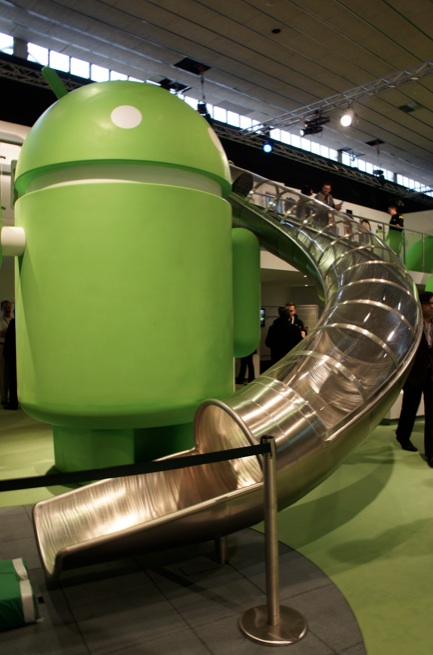 There was also a long, winding treadmill that looked like a sushi-boat bar featuring handsets from Google's various OEM partners: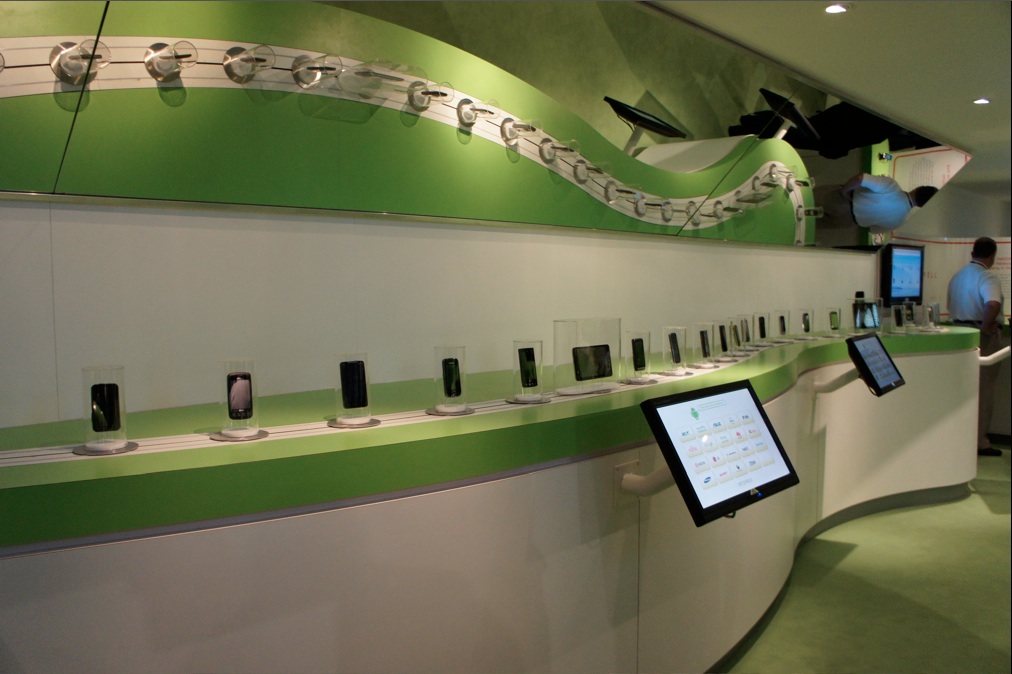 Google also gave every Android partner throughout the show its own unique set of Android collector pins to give away to booth visitors, which generated great buzz around the show, with MWC attendees clamoring to collect as many unique pins as possible.
The coolest piece of technology I saw at Mobile World Congress was the LG Optimus 3G, which is a dual-core mobile phone with 3D camera, recording, viewing and sharing capabilities (all without glasses). The picture below won't do it justice (because you won't be able to see the 3D capability), but believe me, this is one cool handset: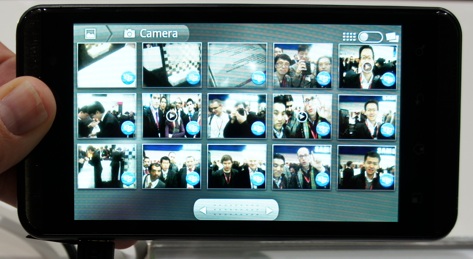 I also enjoyed seeing these limited-edition, wooden handsets at the NTT Docomo stand below: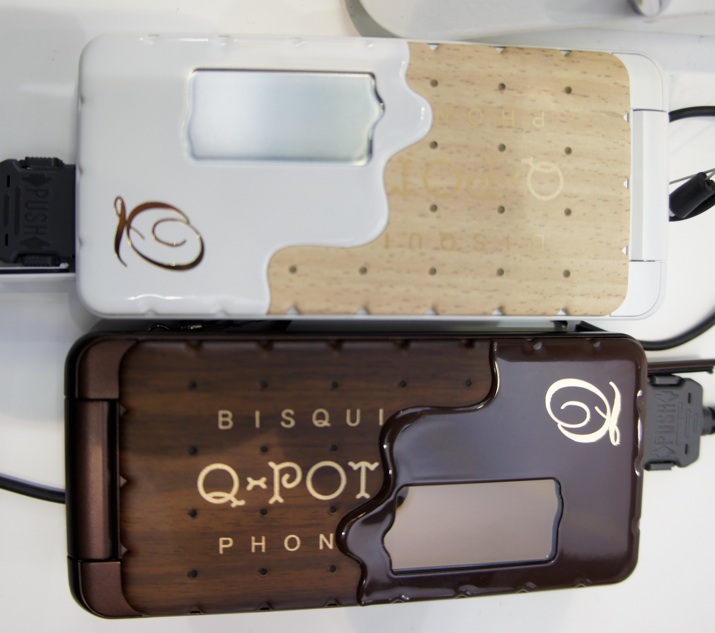 I also stopped by HP/Palm's booth, which was hopping….  Having consulted for Palm in the past, I've been hoping HP would do great things with the WebOS, and if Mobile World Congress is anything to go buy, they're building momentum – particularly around their forthcoming WebOS phones and Tablet: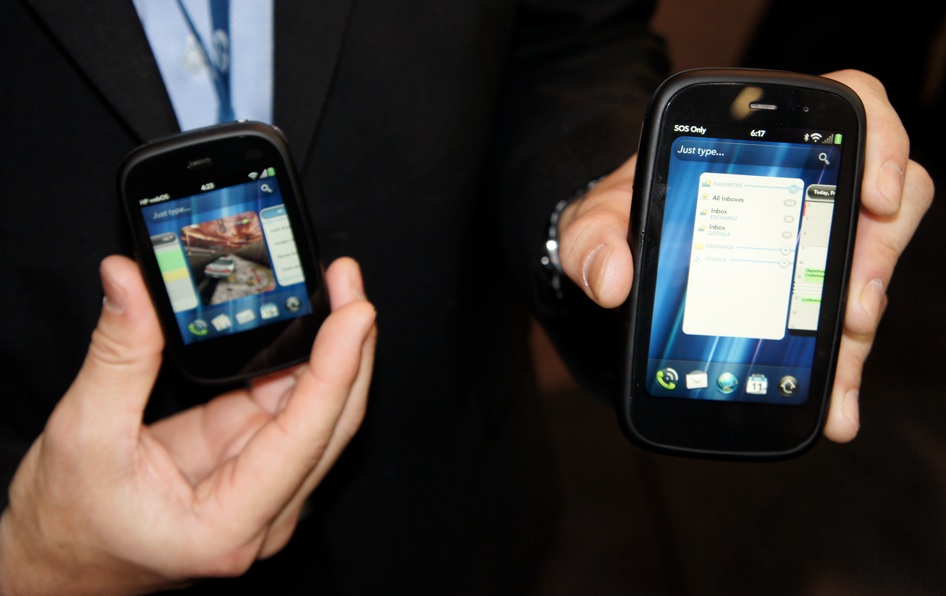 As far as products go, I didn't see any major game changers announced, but there were some interesting innovations…
I stopped by the Vodafone booth to learn about the latest innovations for the emerging world… This year, M-PESA won the Global Mobile Award for the Best Money Money for the Unbanked Service. M-PESA has proven immensely popular as a way to move money among the unbanked.  Greg Reeve, who leads the M-PESA initiative at Vodafone walked me through the latest stats in mobile payments from MPESA, and I was impressed. Vodafone is seeing a massive increase in usage of M-PESA -particularly in Africa, where M-PESA is one of the fastest, easiest and least expensive ways to send money.  To put the benefit of M-PESA in perspective, before the service launched, the unbanked in Africa would often have to spend several hours on a bus to make payments for goods/services. Now, they can send money instantly and receive confirmation of receipt in seconds via their mobile phone for less than the cost of what they would have paid for bus fare.
While at Vodafone, I also got a demo of Vodafone's new Webbox, a plug-and-play keyboard that makes it easy for people in third world countries to access the internet (via Opera Mini 5.1), their SMS and email messages; internet search and media services including FM radio and a photo gallery tool, and a music player – all from their existing TV.  This product is not subsidized, and yet it sports a very low price point (less than $150) and is often bundled with free data for the first few months of use, which make it affordable. With a few modifications, I can see this being very useful in first world markets for older people who may not want to buy a computer (akin to the modern version of WebTV). Check out the video below to see it for yourself:
Another cool Vodafone product I saw at the show was their portable network in a box with Huawei, which packs into 2 boxes and can be used to set up wireless signals in even the most remote locations. This technology will be immensely useful in war zones and other challenging locations, where it is impractical to bring a wireless network truck: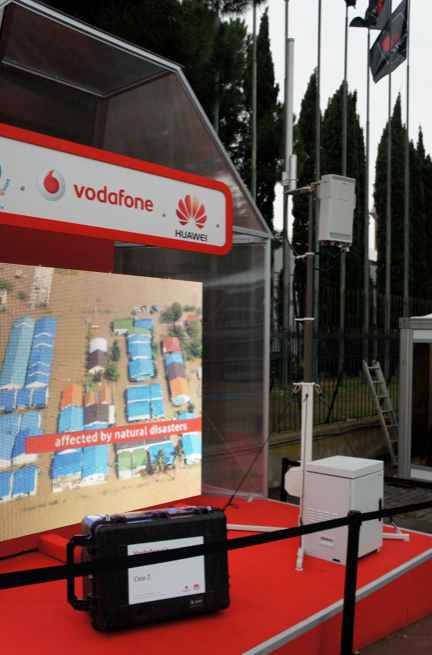 Some of the coolest things I saw at Mobile World Congress weren't at the conference itself but in my conversations with colleagues at networking events outside of the show…
In particular, a ton of people at the show were using the iPhone app, WordLens, to translate Spanish menus into English on the fly. You can see how it works here. It's pretty amazing and incredibly useful. Now, if only Quest Visual, the company that makes it, would bring it to Android!

Another cool app I saw was Penultimate for the iPad by Cocoa Box. This app gracefully turns your iPhone into a moleskin-like note pad. This is the best note taking app I've seen for the iPad. The only things that could make this app any cooler would be to:
a) Bundle it with a DODOcase (best looking moleskin-like case for the iPad) and a Capacitive iPad stylus from Boxwave (best stylus for the iPad)
b) Include the voice recording/ playback/ notes features of the Pulse Smartpen from LiveScribe in the app so that you could automatically go back to your notes and hear what was being said at the time.
At the press-only event Show Stoppers, I enjoyed:
The new iPad case from Otterbox, which not only provides ruggedized protection for the iPad but also a stand to make it easy to watch movies, etc. from the device: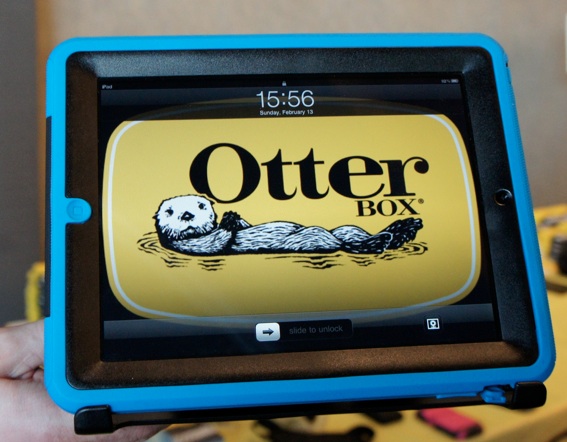 Another great new product is the Android app from Sonos, which makes it easy to control your Sonos wireless speaker system from your android device. I reviewed the Sonos S5 last year, and I loved it, but I really wanted to be able to control it from my Android device… It's easy: