February 27, 2014 by
Lisa Oshima
|
Mobile
,
Review
,
Wearables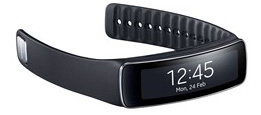 I sat down with Shoneel Kolhatkar, Senior Director of Product Planning at Samsung USA for a hands-on with Samsung's latest products  – the Gear 2, Gear 2 Neo, Gear Fit, and Galaxy S5 (GS5) phone.
When  asked Kolhatkar which device was his favorite, without hesitation, he said it was the "Gear Fit," and it's easy to see why…  It is equal parts fashion statement, smart watch and fitness tracker. Unlike Samsung's other new smart watches including the newly announced Gear 2 and Gear 2 Neo, which dwarfed my arm, the Gear Fit was a perfect size for my wrist and was something I'd actively want to wear.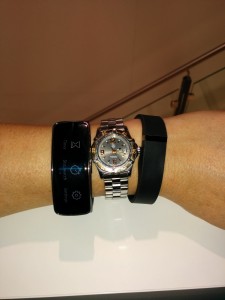 Gear Fit has an elegant design with a 1.84" curved Super AMOLED display – the first of its kind on the market. The screen is strikingly beautiful and bright; so much so that I questioned how long the battery could last.  I was impressed to hear that it lasts a whopping three days with "typical use" – much longer than other smart watches on the market and with a better screen.  It is also IP67 water and dust resistant, which means that theoretically, it can be briefly dropped in and quickly retrieved from 1 meter deep of water, without ill effects (but I wouldn't test this at home).
Kolhatkar walked me through the features of the Gear Fit, which include the ability to change the style of the wallpaper and clock, receive phone notifications on your wrist (including from third party services like Facebook), control the media playing on your Samsung Galaxy phone (volume, etc.), monitor your heart rate / fitness progress, and more.
As he progressed through the demo, I grew more impressed.  Just when I thought the demo was over, Kolhatkar shared another cool feature.  "Wow," I said, thinking that must be the end, I said, "So can you do voice commands on this device?" Kolhatkar replied,
"Not on this device, but with the Gear 2 you can. So, Gear 2 has a lot more capabilities than the Gear Fit. With the Gear Fit, we wanted to make it a lot lighter in terms of capabilities and really focus on the fitness.  The cool thing is, this has a heart rate monitor built in. So it's taking your hear rate on your wrist all of the time, and every 90 seconds you can set it to take your heart rate. And, where that helps is when you're going out for a run or you're training for a marathon or half marathon, you can have real-time coaching, depending on how your heart rate is going. If it's going too fast, it'll actually coach you on that.  We're working with third party apps on some of those products as well."
Since he mentioned 3rd party apps, I asked if Samsung would release an SDK for the Gear Fit.  Unfortunately, they don't have plans for an SDK. Gear Fit runs a proprietary operating system that is neither Android (like the GS5) nor Tizen (like the Gear 2 and Gear 2 Neo).  Samsung is working with a handful of partners to bring services to Gear Fit, but they're not planning to open the platform. This was the only disappointing news about the Gear Fit…  I would have loved to see an open platform with the ability to use lots of third party apps.
No sooner did I mention my vague disappointment about the closed platform than Kolhatkar assured me that Samsung would release an SDK for it's other two new smart watches – the Gear 2 and Gear 2 Neo.  Samsung is planning to open up a SDK for the Gear 2 devices this week and hopes to announce one hundred 3rd party partnerships by the time the Gear 2 and Gear 2 Neo hit the market on April 11th.  Early integrations include CNN, PayPal, eBay, Strava, iHeartRadio, MapMyRun, News Republic, Feedly, SELF Trainer-to-go, DETAILS Daily Regimen, and others.  This is a huge improvement over both the Gear 1, and the Gear Fit, both of which are closed platforms.  Since Tizen is HTML5 based and open, developers that already have HTML5 apps shouldn't have to work too hard to tweak them to be compatible with Gear 2 and Gear 2 Neo.
Like the Gear Fit, both Gear 2 and Gear 2 Neo track fitness, are IP67 water resistant and offer a heart rate monitor. Their screens are, like the Gear Fit, gorgeous – Super AMOLED displays, but unlike the Gear Fit, which is thin, they've got a 1.63" rectangular screen – too big to look glamorous on my wrist (more about that later). Both Gear 2 devices run the Tizen OS and pack a functionally bigger punch functionally than the Gear Fit.  There is one main difference between Gear 2 and Gear 2 Neo… The Neo lacks a camera and will therefore be more expensive.
The Gear 2 and Gear 2 Neo also integrate with Samsung's S Health app on the new Galaxy S5 phone, making it easy to track calories, exercise, and sleep.  Unlike the Gear 2 Neo, the Gear 2 sports an IR sensor and camera, making it even more useful than both the Gear 2 Neo and Gear Fit.  With Samsung WatchON Remote, you can control your Samsung TV, AV receiver, BDP/DVD player and Media box.  You can also get reminders of upcoming TV shows.
The Gear 2 and Gear 2 Neo make huge improvements over the Gear 1 – both from hardware and software design perspectives.  The hardware design team has clearly been hard at work to overcome the visual design challenges of the original Gear. They removed the screws, added a variety of color options and more. When I asked Kolhatkar about the design improvements over the Gear 1, he said:
Moving the camera, moving the IR blaster, and moving the speaker and the mic into the base itself (or the bezel) was very important because what we heard from consumers was 'this [wearable should be] more of a design statement… Yes, I love the functionality but can I make it my own?'
When these devices come to market, you'll be able to customize the straps of both the Gear 2 and the Gear Fit with leather, rubber or stainless steel band.
In terms of functionality and platform potential, both the Gear 2 and Gear 2 Neo rock the Gear Fit.  As beautiful as the Gear Fit is, it's not nearly as smart as the Gear 2s. The Gear 2 is handsome but way too big (and therefore manly) for my arm… By way of size comparison to the picture with the Gear Fit, above, check out the following pictures of the Gear Fit vs. the Gear 2 next to my existing watch and FitBit.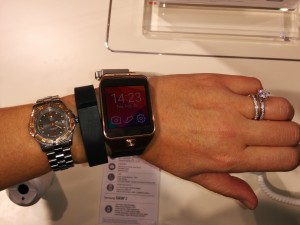 The face of the Gear 2 is wider than my wrist, making it impractical for my daily wear.  As consumer, I hate having to choose between beauty and brains.  Both should be available in one device.  That said, it all comes down to personal preference… While I can't see the Gear 2 being something women will want to wear, given its size, the men I asked thought it looked great on their arm.
While Samsung hasn't disclosed the pricing of its new watches, Kolhatkar says these watches will be available at a variety of price points.  Samsung is targeting the main stream audience – particularly people that care about their health: "When we launched the GS4 with S Health, that was one of the things [consumers] loved… that they could track their calories, track their activities. The [new] GS5 has the next version of S Health [which syncs to both the Gear 2 and Gear Fit]."
In order to use any of these Samsung smart watches, you'll need to already own one of the ~20 supported Samsung Galaxy phones, or invest in the new GS5, which itself (while not knowing about pricing) sounds like an attractive purchase.
Speaking of the GS, saying that it is an incremental improvement on the Galaxy S4 (GS4) doesn't give it enough credit, and yet there's nothing earth shatteringly different.  The biggest improvements include:
Improved battery life
A dimpled polycarbonate back cover with a leather-like feel that can be customized in a variety of cool colors
A much better camera experience with:

A new and improved sensor built by Samsung
Vastly improved auto-focus .3 seconds. That's 3x faster than GS4 or any other Smartphone. This is enabled by Phase Detect, which is available for the first time in a smart phone… It's normally found in DSLR cameras.
Real-time HDR
Much better visual post processing effects like filters, erasing subjects after the fact, selective focus
A simplified UI
Built-in heart rate monitor
The newly improved S Health application.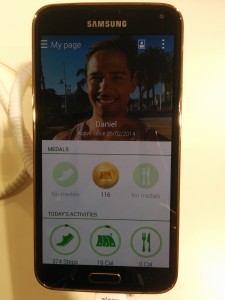 The new S Health app provides a dashboard of your athleticism and health. It can run independently on the GS5 or connect to the Gear Fit, Gear 2 or Gear 2 Neo.  The app shows you how many calories you've burned, how many steps you've taken, and more. Kolhatkar tells me that soon, Samsung will release APIs for S Health, which will enable app developers leverage the data generated through the app into their own applications (things like heart rate, pedometer, etc.).
After meeting with Kolhatkar, I had the opportunity to play with all four of Samsung's new devices, and I was impressed by how easy they were to use.  Despite my disappointment that the Gear Fit won't be open for developers, it is an awesome looking device, and I'll buy one if the price is right.  The Gear 2 and Gear 2 Neo are similarly handsome powerhouse smart watches, both packed with a ton of features and impressive third party app integrations – perfect for the gadget savvy man (and gadget loving ladies who can get over its size). And, last but not least, the GS5 looks like a phenomenal phone – one that I'll consider purchasing if the price is right.   As I mentioned in my other post, it's clear with these new device launches that Samsung has really started listening to the needs customers.  Here's hoping these products are as durable as they are attractive.