February 27, 2014 by
Lisa Oshima
|
Events
,
Wearables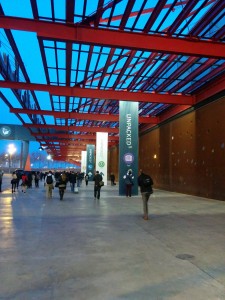 This week at Mobile World Congress in Barcelona, the mobile industry's big annual conference, Samsung announced the new Galaxy S5 phone and three new smart watches: Gear 2, Gear 2 Neo, and Gear Fit.  I attended the live announcement on Monday night at the Centre Convencions Internacional Barcelona, and the excitement was palpable.
The venue was buzzing with thousands of journalists and partners – all excited to be among the first to catch a glimpse of Samsung's new product line-up.  Over an hour before the auditorium doors were set to open, people were lining up to get inside.  As kick off drew nearer, people started pushing and shoving their way to the front of the herd.
When the doors finally opened, the crowd heaved forward – many literally clawing their way through the throngs of people to get a seat.  It was nuts – similar to TV images of the Running of the Bulls, except with more elbows than horns. The behavior of the crowd echoed the excitement today's consumers seem to have for the newest and most innovative mobile technology, and Samsung did it's part to amp up people's anticipation.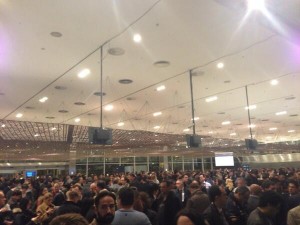 As people made their way to their seats, a live orchestra of string instruments began playing and seemed to magically turn the chaos to calm as the room filled to capacity.  As the announcements started rolling, it was clear that Samsung is starting to think differently about products than it has before…
Their pitch was the clearest and more user-centric it's been.  JK Shin, President and Head of IT & Mobile Communications Division at Samsung announced that Samsung now has more than 200,000,000 users.  Rather than immediately going through a long laundry list of the new, tech-centric features of their new products (as has been seen in previous new product announcements from Samsung) Shin talked about the importance of deeply understanding user needs. He described Samsung's approach to the consumer and how before designing this new group of mobile products, his team spent a lot of time trying to better understand users.
This was the first time I've heard a Samsung exec speak passionately and convincingly about the importance of putting users' needs first.  As I listened to the announcement, I couldn't help but think that the approach sounded like something out of Apple's playbook.
Apple proved that listening to consumers, understanding their behavior and anticipating their needs is a critical part of nailing mobile product design and gaining mass adoption.  Despite impressive user numbers, Samsung still has a way to go before it's as good as Apple at understanding consumers.  However, the tone of their new product announcements as well as the user-centric innovations of the GS5, Gear 2, Gear 2 Neo and Gear Fit are a big step in the right direction. I'm excited about what the future holds for Samsung if they keep up this consumer-centric approach to design.