October 30, 2013 by
Lisa Oshima
|
Developers
,
Events
,
Mobile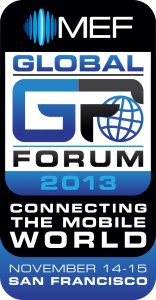 We are a media partner with the first-ever MEF Global Forum 2013, taking place in Silicon Valley on 14th and 15th November. Hosted by MEF the global community for mobile content & commerce, this event brings 12 years of heritage and international perspectives to the heart of Silicon Valley.
If you want to learn and grow your mobile business internationally this is a must-attend event offering an 'inside out, outside in' unique perspective on the global mobile ecosystem. For 3 days only full two-day passes worth $1599 to the inaugural are available in an exclusive 2-4-1 offer. Register now and invite a colleague or client for FREE to connect with global mobile leaders. Offer ends 31st October 2013.
For just $800 per pass, you'll get access to:
13th November: Welcome Drinks @ Mozilla's Roof Top venue from 6PM
14th November: Mobile Innovation Day @ NestGSV in Redwood City & Meffys Awards Gala Dinner.
Supported by Silicon Valley Bank, speakers at this event include the CEO of Evernote, CTO of Mozilla, technology futurist Paul Saffo, plus international carrier network venture arms including Orange, Singtel Innov8, Verizon Wireless, Telefonica Ventures plus mobile pioneers including Waze, Box and Glympse.
In the evening, the 10th Annual Meffys Gala Dinner Awards hosted by Emmy award winning Daniel Sieberg will take place at the Intercontinental Hotel in San Francisco.  65 finalists showcasing commercial success and mobile innovation.
15th November: Global Growth & Monetization Day Intercontinental Hotel in San Francisco
Hear insights and success case studies from mobile's top pioneers from across MEF's international community. Speakers include senior executives from Shazam, VISA Mobile, Gameloft, Real Networks, Pearson plus international carriers TBA and regional workshops.
This special 2 for 1 offer ends 31st October (tomorrow), so register now.
Start-up rates are also available – check main event site for details. With just over two weeks to go – take advantage of this exclusive offer and make sure you don't miss out – space is limited.