October 29, 2013 by
Lisa Oshima
|
Mobile
,
Research
,
Review
I recently bought the Sony NEX-6, and I brought it with me to the World Series this weekend. This great little compact SLR camera packs a punch…
Here's the shot I took of the now game ending obstruction call that won the St. Louis Cardinals Game 3 over the Boston Red Sox on Saturday night. We were sitting on the right field line, 25 rows back just in front of the right fielder. I used a NEX E-Mount 55-210mm f/4.5-6.3 OSS Zoom Lens to capture this shot, and I was impressed by how close it looks…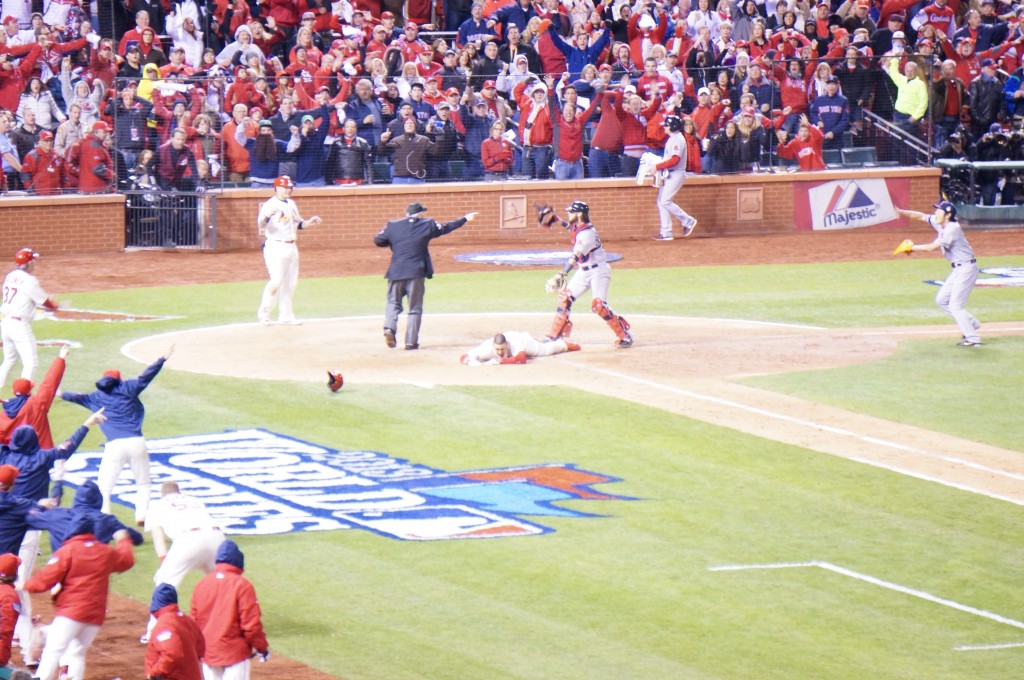 The World Series was one of the few action packed events where I've had the opportunity to use the Sony NEX-6.  I've been pleased with the quality of the photos I've taken with this camera over the past few months. It's a great follow-on from NEX-5, which I previously owned. And, the size is fantastic… I get great SLR quality shots with a compact camera body. In addition, there are better NEX-E lens choices available than several years ago. I have two lenses – the 55-210 mm lens I took the above shot with and a 16-50mm Lens (Black) [NEX6L/B], which is what I use in most situations.
While the NEX-6 is a great camera, and I can easily recommend it, I do have a few complaints…  Unlike the NEX-5, the NEX-6 is wi-fi enabled. This is a great feature, which makes posting pictures to the web much easier on your home network than tethering to your computer. However,  Sony has a lot to learn about how to make finding and selecting wi-fi networks easier.  Without a dedicated keyboard, selecting a wi-fi network and password is a nightmare reminiscent of the Onion's MacBook Wheel spoof.
The NEX-6 also has apps, but again here, Sony has proved it has a lot to learn about how to make features accessible to users. To enable apps, you must first visit the web on your computer and select the desired apps, many of which are paid. In the age of mobile apps, there's no good reason I can think of as to why a wi-fi enabled device shouldn't be allowed to browse and purchase apps through some sort of a store… except that entering credit card numbers and purchasing information into the "MacBook Wheel-like" interface would, again, be a nightmare. The unfortunate part of this product is that if Sony had thought as much about usability as image quality, they could have made a camera that really wowed the masses.  And, it should have been easy enough for Sony to enable users to tether their camera to their mobile phone for easier (touch screen) data entry and image upload over LTE when wi-fi is not enabled.
The NEX-6 also takes longer than it should to take follow-on shots, unless you've got the camera in continuous shot mode and are holding the shutter button down.  I would like to have more control over the shutter when the camera isn't in continuous shooting mode.  If you're looking for a camera to capture loads of action shots, whether sports or nature related, this is something to keep in mind.
The NEX-6 can also only be charged when the camera is switched to the "off" position. If you've got the camera switched to "on," it won't charge, and you'll get one of several error messages, none of which tells you to turn the camera off if you want to charge it. Additionally, the light that tells you the camera is charging is counter intuitive.  It flashes yellow to let you know it's charging which, at first glance makes you wonder whether it's actually charging or whether there's an issue.
Lastly, (and I'm not sure if this is a camera issue or an SD Card issue) after a night of taking pictures at the World Series, I pressed play to review the photos, and I got an error saying the camera could not read the SD Card. I turned the camera off and turned it back on again, and everything was fine, but the experience did make me question what went wrong and had me holding my breath for longer than usual.
All in all, this is a great camera, and the best compact SLR I've found on the market. However, usability seems as though it was an afterthought. If Sony and other camera OEMs want semi-casual users to use their products, they need to improve usability and make cameras interoperable with smartphones, tablets and eventually wearable devices.  If I take a high res picture on my camera, I'd like to be able to see and share a lower res version from my mobile phone. Likewise, I'd like to be able to take advantage of my "unlimited" data plan by occasionally uploading full-res images over LTE when wi-fi isn't available.