June 6, 2013 by
Lisa Oshima
|
Google Glass
,
Mobile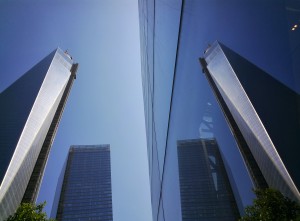 My experiment with Google Glass continues…I just got back from a trip to New York.  This trip was my first experience playing tourist with Glass, and I took lots of photos and videos. I wore Google Glass indoors and outdoors- on planes, boat rides, the train, subway and taxis and in rain as well as sun.  It was much more convenient for taking pictures than carrying my mobile phone or a camera. You can see some of the pics I took with Glass here on Google+.
While I was generally impressed with the image quality, there is still room for improvement.  Battery life is an issue… My charge only lasted around 4 hours while I was taking pictures and videos.  And, I discovered that photos don't auto back-up unless Glass is plugged-in and connected to a wi-fi network, which isn't very helpful while away on vacation.  Back-up should be possible over the mobile network as an option.
I also wish I could zoom in/out of subjects, optically and/or digitally. Glass has a very wide angle lens, as you can see from the photo I took above at Ground Zero.  This is advantageous for taking scenery shots but not great for close-ups of people or objects. I also wish that Glass handled pictures of people better in low lighting conditions and/or had a flash. Glass less useful for taking pictures of people indoors than my mobile phone, which has a flash.
I didn't see any other Google Glass wearers while I was in NYC.  In San Francisco, I usually spot at least one person a day wearing Glass, and 3 or 4 people stop to ask about it every day.  In contrast, over five days in the Big Apple, I was stopped fewer than 10 times – a record low.  It's not that people didn't notice or care… Plenty of people were talking about about me as I walked past them, but few people seemed to know what Google Glass was and even fewer asked  me about it.
Of the people who stopped me, most were riding the elevator with me in/ out of the Westin. There was also a very animated drunk guy near Times Square who got super excited about Glass (at one point, I thought might try to take Glass off my face). Then, there were a couple of waiters who asked what I was wearing and a TSA agent at Newark Airport who asked if she could swab my glasses for explosive residue (I didn't have to put them through the x-ray machine).  My favorite onlooker was a curious eight year old girl who was on a field trip with her class to the Museum of Natural History. I could see her staring at me as I walked through an exhibit. Eventually, she stopped me to say she liked my "glasses" as a few other kids gathered closer. When I showed her how I use Glass to take pictures, her face lit up, and I felt like a magician.