May 20, 2013 by
Lisa Oshima
|
Google Glass
,
Mobile
,
Review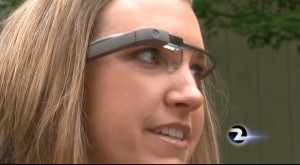 I was recently interviewed by Maureen Naylor of Fox KTVU Channel 2 in the Bay Area about my experience with Google Glass. Watch the full video report here.  
While this interview was filmed the previous week, the segment aired last week coinciding with Google's big developer conference, Google I/O in San Francisco. It also aired on the same day that it was revealed that some members of congress sent a letter to Google asking for answers and assurances with regard to the Google Glass privacy policy.
With companies like Google now trying to mainstream wearable computing, it's unsurprising that some are concerned about privacy.   As an early mobile device and smartphone adopter, I've heard plenty of concerns raised about privacy over the last fifteen years, many of which are overblown.  In my opinion, Google Glass is no different than a mobile phone when it comes to privacy.
Google Glass works in conjunction with a mobile phone to push the most important information from your mobile phone to your face and vice versa. Google Glass makes it easier to snap pictures in one click, but it doesn't have its own built in mobile signal or GPS and therefore, it relies on your mobile phone to function.  It can also work over a wifi network, but it must be set up using a mobile phone interface.  In essence, Google Glass is a fancy accessory for your mobile phone, and therefore,  privacy concerns raised about Google Glass should first apply to the mobile phone and networks that power it.