January 3, 2012 by
Lisa Oshima
|
Mobile
,
Review
,
Social Media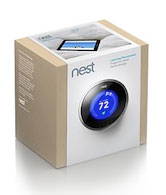 I just purchased 3 (yep 3) of the new Nest Thermostats, which I'll be taking for a test drive in the coming weeks.  I learned about Nest in this great Wired Article.  If you're unfamiliar with Nest, it's an amazing new thermostat that was designed by the creator of the iPod.  Nest is intelligent, learning what you like as you use it… It remembers when you wake up, when you go to sleep, and more. Best of all, you can control it remotely from your mobile phone – either iOS or Android, and it looks easy to install:

I'll be replacing the thermostat in my new house and in my San Francisco apartment (now available for short-term vacation rental or corporate housing!) with a Nest.  Nest thermostats are in short supply right now, and I'm on the shortlist of the first people to get one, so I figured it wouldn't hurt to by an extra one… I haven't decided what I'll do with the third one yet, but if it's good, someone in my family will want it.  If not, it's easy to return!
I'll publish another post when the units arrive… Who knew buying a thermostat could be this much fun?!