October 5, 2011 by
Lisa Oshima
|
Developers
,
Mobile
,
Monetization
,
Social Media

I recently sat down with Henry Vogel, the President and CEO of Apptera to talk about their new Android app, Poptuit.  Poptuit is a multi-faceted consumer-focused app that brings together your favorite people and merchants together with your phone's dialer, SMS messenger, email client, camera, maps, social apps and more into one easy to use interface.  This app packs a punch and does a ton of things that normally would require several apps to do… It reminds me of a mobile version of Xobni mixed with a social address book, smarter Yellow Pages, Glympse and the new "Family and Friends" app Apple announced today for the iPhone 4s.
For starters, it it ingests your communication logs, address book, emails, etc. and builds a screen of tiles featuring the top 30 people that you contact most, a feature they call your "pop faves".  To create your pop faves, Poptuit leaves your data on the phone but it uses an algorithm to look at recency, frequency of conversations. This algorithm also processes the duration of your call, conversational reciprocity, and more.  You can re-order the tiles as you see fit.  The app also lets you know which of your friends are also on Poptuit (green star = on Poptuit and available to talk, red star= on Poptuit but not free to talk).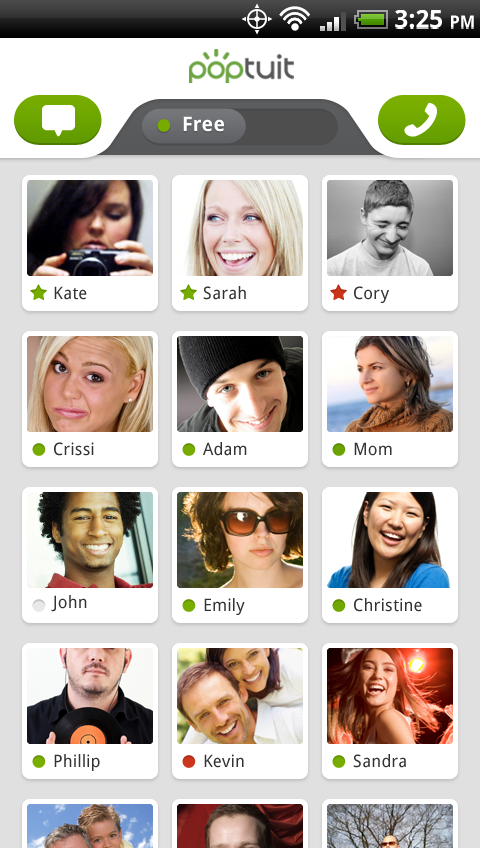 It does a similar thing with the merchants you contact most. Apptera has a background in mobile yellow pages, so they're able to seamlessly match the phone numbers you call with the merchant information in their database to assemble a list of the top 30 merchants you contact most.  They have partnerships with AT&T Interactive, CityGrid, Yelp to pull in information about companies: pictures, store hours, etc.  Today, phone calls and emails connect you to companies through Poptuit. Vogel tells me in the future, they'll likely help you connect to Merchants through "Likes" and check-ins on social networks as well.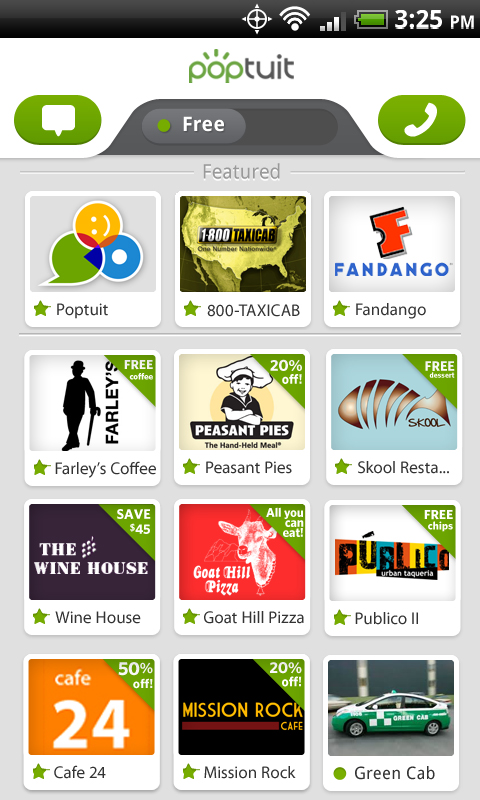 Another cool Poptuit feature is location sharing.  Much like Glympse and the new "Family and Friends" app Apple announced today for the iPhone, with Poptuit, you can share your location with friends/family for a specific period of time.  If your friend is not on Poptuit, (s)he'll get a text message that you're trying to share your location. These features are all opt in, and you can control how long you want to share your location for with a particular contact.
As you can see below, Poptuit also threads conversations, which makes it easier to track your conversations with friends, regardless of whether on phone, email, or text.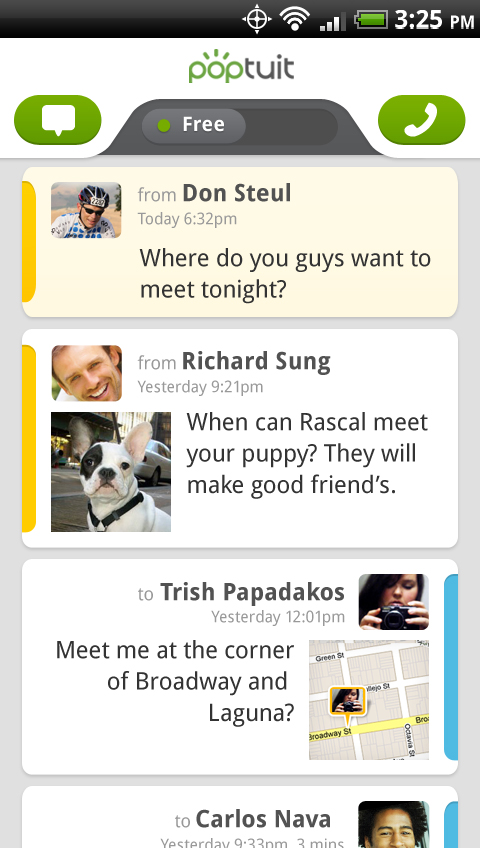 It does a similar thing with your favorite merchants: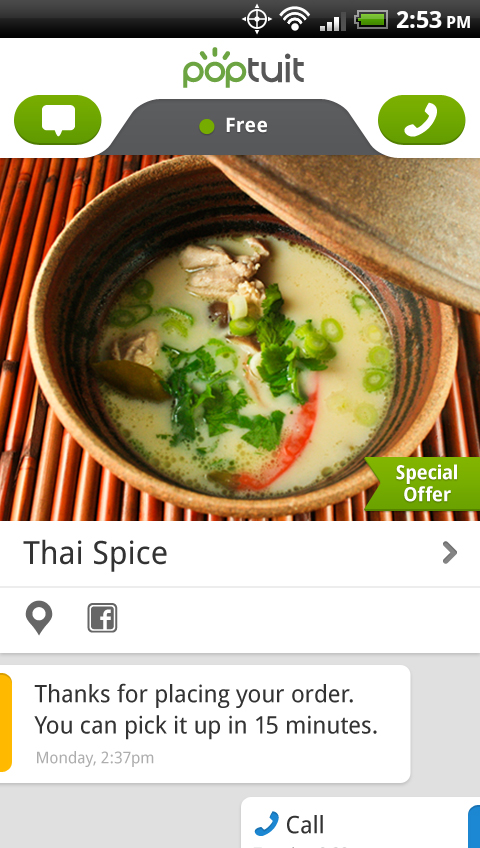 I asked Vogel about how Poptuit plans to make money with this app.  He comes from an advertising background and feels that personal/ smarter yellow pages will be valuable real estate. Though Poptuit doesn't want to be a conventional deals app. It aims to be a personal network app connecting users's favorite people and places. Their plan is to allow merchants to target users. They want to catch people at the golden moment when they're interested in getting something.  As opposed to spamming people with irrelevant coupons (what man doesn't love getting all of those Brazilian waxing coupons from Groupon?!), Poptuit wants to connect users with merchants in a more meaningful, helpful, non spammy way.  Ultimately, Vogel says they'll monetize in several ways:
A featured merchant slot (though they don't just yet).
Ingesting 3rd party ads from companies like Groupon, Living Social, Att Interactive, Citysearch, Valpack, etc. and targeting those ads towards a user's favorite places
Enabeling merchants to use Poptuit as a platform – i.e. CRM in a box.
The only way Poptuit will be able to make this business model work is by attracting a ton of users, and ensuring that ads and targeting enhance, rather than detract from the user experience. Vogel is aware of this, and he's confident that Poptuit will do just that.  Poptuit is currently in private beta with several hundred users, and Vogel says that beta customers are using it to replace sevearal other apps, on average using it 10 times a day. They hope to be out of beta and launch live to the public in Q4.  In the meantime, if you'd like to try it, you can sign up for a free beta account using the word "pop" here.