May 16, 2011 by
Lisa Oshima
|
Developers
,
Events
,
Mobile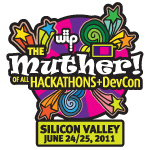 Mobile developers Mobile (and aspiring) mobile developers –  Join my friends at WIP (I'm an informal advisor) for the The Muther! of All Hackathons + DevCon on Friday, June 24 to Saturday, June 25, 2011 at the Computer History Museum in Mountain View, CA. This is going to be one muther of a hackathon…

The Muther! of all Hackathons + DevCon is coming and YOU don't want to miss it! This will be a real mashup where Hackathon meets DevCon in a fun, informative format!  The real world doesn't focus on a single technology, phone or solution, so neither will the Muther!
Join hundreds of New developers, Experienced developers, Tool companies and Carriers, Investors and other mobile fanatics for a two day adventure of Master Classes, UnPanels, Coding, New APIs, Prizes, a BBQ and more. Innovation trumps sleep. Always.
For more information and to sign up: http://wipconnector.com/wipjam/entry/the_muther_of_all_hackathons