March 28, 2011 by
Lisa Oshima
|
Contest
,
Developers
,
Events
,
Mobile
,
Monetization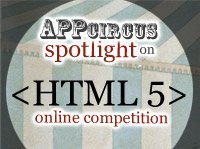 Today is the last day for developers to submit their apps to the AppCircus Spotlight on HTML5, the world's first HTML 5 mobile app competition, sponsored by Zeewe (a mobile app web store from Movile and the best source of mobile web apps I've seen to date).  I'm excited by this contest on several fronts…
As smartphones evolve to support more advanced web technologies, one of the greatest untapped opportunities for mobile developers is HTML 5, which allows developers to write an app once and have it run on multiple mobile devices across OSes.  The mobile world is plagued by OS and app fragmentation, and app developers and consumers are the ones that suffer.  App developers waste tons of money developing the same app for multiple mobile platforms, and consumers suffer because they're unable to share and/or adopt cool apps that are only available on one platform.  As HTML 5 is supported by more smartphones, there will be greater opportunities for cross-platform innovation without the hassle of cross-platform development.
I'm also a big believer that developers should be rewarded for trying something new… So I'm pleased to hear that Zeewe will award the winning developer  with up-to $2,000 (The winner of the competition will get $2,000 USD if the app is made available through Zeewe by the time of the Winner selection. If the winning app is not available on Zeewe, the cash prize will be $1,000 USD).  And, the winning developer will have the opportunity to pitch at the AppCircus in Palo Alto, CA on April 6, 2011.
So, if you're a developer that's got a mobile HTML 5 app you've been working on, and you're looking for a great launch platform, register for AppCircus and submit your app to the AppCircus Spotlight on HTML5 before 3/29/2011.