March 9, 2011 by
Lisa Oshima
|
Uncategorized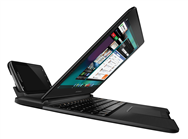 Last night, I bought a Motorola Atrix 4G mobile phone & Laptop Dock accessory.  The Atrix 4G phone is awesome – faster than iPhone 4. The laptop dock is light, and I love the keyboard.  I'm not sure how useful the Laptop Dock will be in the long run vs. an iPad, but I've got a 14 day trial period with it on AT&T to find out…  I'll be posting more on the Atrix and Laptop Dock combination once I've had more time with it.  Here are my initial observations…
The Atrix phone is running Google's Android OS 2.2.  However, the Laptop Dock is running a proprietary Linux OS, which Motorola calls Webtop.  When the Atrix phone is attached to the back of the Laptop Dock, the Webtop experience on the Laptop Dock mirrors everything I do on my phone but on a larger, laptop-like screen.  I can run all of the Android apps I've installed on my Atrix from the Laptop Dock. I can also operate separate Webtop apps like a Linux version of Firefox, etc. from the Laptop Dock.
What I like so far:
You know the old adage – You can have it good, fast, cheap (pick two)… Well, contrary to early reports, with the Atrix 4G and Laptop Dock, you can have all three.  Early reviews complained that the combination of the Atrix and Laptop Dock was two expensive, but I got mine yesterday at the AT&T store for $399.  Not to say that's really cheap, but for two cool new gadgets, that's pretty darn good.  To put it in perspective, you can get the Motorola Atrix 4G phone AND the Laptop Dock combined for $100 less than the new iPad 2 alone when you sign a new 2 year contract with AT&T.  Through AT&T's special offers in-store, I got the Atrix phone for $99.99 (a STEAL!) and the Atrix Laptop Dock for $299.99 ($399.99 minus a $100 mail in rebate).  The new 16GB iPad 2 starts at a whopping $499 and doesn't have expandable memory. The Atrix also comes with 16GB, but you can add 32GB more juice with a MicroSD card to make a whopping 48GB for less than the cost of a 32GB iPad 2!
As far as speed goes…The Atrix is lighting fast – much faster than any other Motorola phone I've owned and faster than the iPhone.  It has a dual core processor, which means that it multi-tasks like a pro, something that the iPhone really doesn't do well.  It also supports Flash, which is something iPhone doesn't do.
I was a little worried when I found out that the Atrix was pre-loaded with MOTOBLUR, since I've got 2,500 contacts, which slowed down my previous Motorola MOTOBLUR devices (Backflip and CLIQ) to a grinding halt. However, MOTOBLUR is working great so far on the Atrix. In fact, my contacts uploaded from Google Contacts to the device within a few minutes (vs. nearly an hour with previous devices). And, looking up contacts quickly is a breeze.
The Laptop Dock is super-light and has a beautiful screen and easy-t0-use keyboard.  I also love that I can use the Laptop Dock to charge my Atrix phone when it runs out of battery. This gives me a huge extended battery life.
The downsides so far:

One thing I know already is that the Atrix Laptop dock won't fully replace my laptop.  It will make a great traveling companion when I don't want the weight of my MacBook, but it's not as fast as my MacBook Pro, doesn't have as much memory, and there aren't many apps pre-loaded on the Laptop Dock – just the Full Firefox broswer and Adobe Flash Player.  Instead, Motorola is positioning the dock as a way to access cloud computing on a bigger interface than the phone provides.  So, if you want to run things like Microsoft Office (or other apps for that matter), you have a few options:
Sign up for a cloud computing option (Google Docs is the best option I know of that's available today, but there's also Microsoft's forthcoming Office 365 Beta
Purchase an Android app like Office Suite Pro, DocumentsToGo, Quickoffice, etc. which will make it possible to run
Purchase an Android app that makes it possible for you to remote control your PC at home from your Atrix and Laptop Dock i.e. LogMeIn Ignition, Splashtop, Wyse PocketCloud,  etc.
My big complaint so far is that the guy at the AT&T store didn't know that I need to have a $40/month 4GB tethering plan to use some of the Laptop Dock features on the AT&T network (like the Firefox browser in Webtop mode). I figured that out on my own when I got home. AT&T seems to be trying to phase out their unlimited data plans (which I'm on now), so they won't let you use your phone connection to run the Webtop Firefox browser.  However, it is still possible to use the mobile version of Firefox on the Webtop laptop screen without a tethering plan… And, you can download apps like LogMeIn, which allow you to operate the full version of Firefox from your home PC on the Webtop browser.  This seems odd…  The Laptop Dock won't work without the phone and yet it's treated as a separate device?  According to a few blog posts I've read, you can root the phone to circumvent having to pay a tethering fee, but I'm a little wary of doing that… I think I'll let a few more people try the hack first. 😉
I've had the Atrix combo for less than 24 hours, so I'm reluctant to give it my wholehearted endorsement yet… I'm sure I'll find a few drawbacks along the way, but so far, I'm really impressed.  Stay tuned for more details, as I'll write another post when I've had the duo a bit longer.