November 16, 2010 by
Lisa Oshima
|
Mobile
,
Review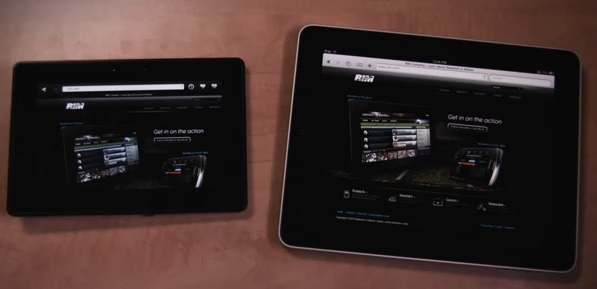 Looking at the emerging tablet market, it's difficult to decide which product to buy… For starters, there's already the Apple iPad, the Samsung Galaxy Tab, and the RIM PlayBook coming soon.  Then, there are the e-reader devices (i.e. Kindle, NOOK, etc.), which I suspect will evolve quickly to become more like tablet computers rather than uni-dimensional e-readers.  In addition, today, HP's (formerly Palm's) Jon Rubinstein told attendees at today's Web 2.0 conference that HP has a "great tablet" running WebOS coming soon.  With so much untapped potential in the tablet ecosystem, I'm not ready to commit yet.
The tablet market is evolving quickly, and 2011 is sure to bring even more great options.  A good example of the tablet evolution can be seen in the comparison between the Apple iPad and the RIM PlayBook. There are a lot of factors to consider when buying a tablet:
Browser: PlayBook wins.  As you'll see below, PlayBook supports open browser technologies like HTML5, and the pages render much faster than those on the iPad.  Additionally, PlayBook supports Flash, which makes interacting with web pages more engaging than the iPad.
Browser capability isn't the only comparison consumers should consider when purchasing a tablet.  There's also  price, size, processing power, battery life, camera, and available applications.
Price: iPad and PlayBook are comparable…
iPad's wi-fi only version is available for $499, and prices go up from there, based on memory and wireless capabilities.
RIM says the PlayBook will be priced at under $500, so pricing should be competitive with the iPad.
Size & display: It's a matter of personal choice.  At 7 inches wide, .4 inches thick, and .9lbs, the PlayBook is more portable than the iPad, which is 9.7 inches wide, .5inches thick, and ~1.5lbs.  However there's something to be said for having a bigger screen for usability, if not portability. It's easier to read and interact with a bigger surface.  However, neither device is great for reading in broad daylight. If you're looking for a device that will make reading books easier by the pool, you're still better off with a Kindle or a NOOK.
Processing Power: The Playbook wins
The PlayBook has a dual core 1GHz processor, which is better than the iPad has a single core 1GHz processor.

iPad's processor: 1GHz Apple A4 custom-designed, high-performance, low-power system-on-a-chip
PlayBook's processor: The ARM Cortex A9, is more advanced than Apple's A4
Battery Life: To be determined… Since the PlayBook isn't out yet, and we don't know which graphics chipsets the PlayBook will use, it's difficult to say how many hours it will last. However, I suspect the architecture on the A9 processor for the PlayBook and it's smaller screen size may mean better battery life for the PlayBook.
Camera: The PlayBook wins
iPad doesn't have a camera. The PlayBook has two.
PlayBook's front-facing camera is 3 megapixels, useful for video conferencing
PlayBook's rear-facing camera is a whopping 5 megapixels, capable of shooting 1080p HD video.
Apps: The iPad wins
It's difficult to beat Apple's App Store and the traction Apple has with developers.  So far, RIM hasn't done it, though there are some good apps on Blackberry App World, what kind of apps developers come up with for PlayBook remains to be seen.
As you can see, there are a lot of factors to consider when buying a tablet.   Is now the right time to buy, or are you better off waiting?  If you're looking for a fun gadget that will impress your friends and family, you'll probably enjoy owning either the iPad or the PlayBook when it comes out.  If you're looking (like I am) for a longer-term, light weight alternative to your Mac or PC, you may want to wait more time to see how the tablet market evolves out before dropping $500+ for a new device.