August 3, 2010 by
Lisa Oshima
|
Mobile
,
Review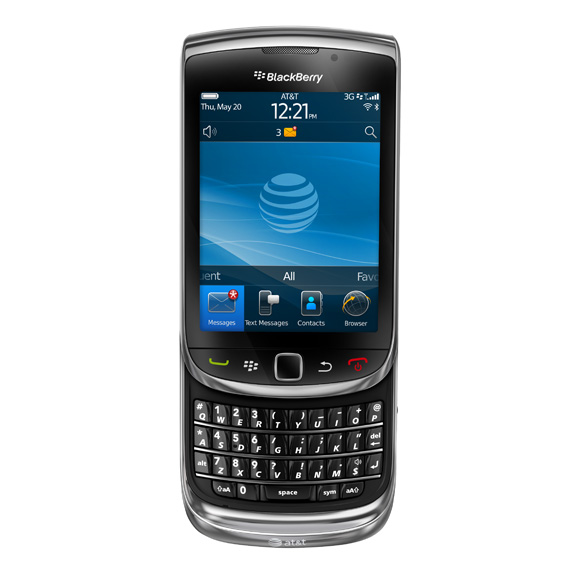 Today, RIM launched its first touch screen smartphone with a slide out QWERTY keyboard, the BlackBerry Torch 9800 on AT&T.  The Torch is the first RIM device to run the Blackberry 6 operating system, and it is the first RIM device with the Blackberry App World (app store) pre-installed (supporting Carrier billing on AT&T).
I've not gotten my hands on it yet, but based on the videos I've seen, it looks slick.  Size-wise, it's not the smallest phone out there: 4.4" x 2.4" x 0.57" (closed), 5.8" x 2.4" x 0.57" (open), but it seems to pack a punch.  It's got the new Blackberry 6 OS, which has better support for touch screen and track pad plus integrated support for BlackBerry® Messenger (BBM™), Facebook®, Twitter™, MySpace™ and various IM apps. If the videos are to be believed, it looks more responsive than RIM's previous touch screen attempts.
It has a 3.2″ 360 x 480 capacitive touch screen display, 5.0MP camera with flash, auto focus, image stabilization and geo-tagging, 512MB Flash memory, 4GB on‐board memory, microSD/SDHC memory card slot (4GB card included, cards up to 32GB supported), Built‐in GPS and Wi‐Fi (802.11 b/g/n). It has Tri-band HSDPA (3G) and quad-band EDGE support for the option of voice service in more than 220 countries, data service in more than 195 countries and 3G connectivity in more than 125 countries, including Japan and South Korea.  It also has a removable, rechargeable 1300 mAhr battery that provides approximately 5.8 hours of talk time on 3G networks or 30 hours of audio playback or 6 hours of video playback.
The form factor seems to be an attempt to appease users that want both the quick accessibility of a touch screen device with the ease of use of a QWERTY keyboard. Speaking from my own experience using the Motorla CLIQ, Motorola Backflip and the Palm Pre Plus, I'm not a huge fan of slider or flip keyboards. They tend to make the device bigger – more clunky, and less graceful during multi-tasking (because you've got to fiddle with the keyboard). I'm probably in the minority, but I'd prefer to have either a smaller screen with a more readily accessible keyboard that I can use both one and two-handed (like standard BlackBerries) or no hard keyboard with a very receptive touch screen. That said, I've not played with the Torch yet… I may be happily surprised.
Mike Lazaridis, president and co-ceo, Research In Motion called the BlackBerry Torch 9800 "one of the most significant launches in RIM's history." He went on to say, "With a new user interface, new browser and new handset design, the highly anticipated BlackBerry Torch and BlackBerry 6 deliver integrated and uncompromising capabilities for consumers and business professionals that preserve the industry-leading strengths of the BlackBerry platform while adding exciting new dimensions."
U.S. customers will be able to purchase the BlackBerry Torch on August 12 from AT&T company owned retail stores, online at www.att.com/blackberrytorch, and at Best Buy, Wal-Mart and RadioShack stores. It will be available for $199.99 with 2-year service agreement on a qualifying rate plan and data plan required.
You can see videos, pictures, and more about the BlackBerry Torch 9800 here on AT&T's site.  Check out the video below for more on the BlackBerry 6 OS: