April 1, 2010 by
Lisa Oshima
|
Consulting
,
Developers
,
Mobile
,
Monetization
,
Social Media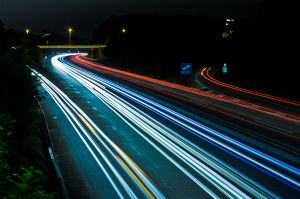 I just downloaded Sandvine's 2010 Mobile Internet Phenomena(1) study, a whopping 35-page report that details data trends from more than 40 of the world's leading mobile operators, who serve more than 200 million subscribers worldwide.  Sandvine is a bit of a 'traffic cop' on the figurative 'mobile highway.'  It provides network policy control solutions to mobile operators around the globe.  Sandvine's Mobile Internet Phenomena study is jam packed with good information about what consumers are doing online from their mobile devices around the world and plenty of reasons why mobile operators need help managing mobile traffic.  Intrigued by the findings in Sandvine's report, I couldn't help but think about what traffic on the mobile highway looks like today and wonder what the future holds for the mobile ecosystem amidst growing  congestion…
What is driving mobile traffic?!

Among the most interesting findings in Sandvine's report is that mobile "social networking applications represent between 4 percent and 9 percent of the network's peak bandwidth."   For the purposes of the study, social networking is defined as "Websites and services focused on enabling interaction (chat, communication) and information sharing (photos, status, etc) between users."  According to Sandvine's research:
Facebook accounts for 3 to 6 percent of peak period traffic, and nearly one out of every five mobile data subscribers accesses Facebook regularly.  (I suspect this number will grow further in 2010 as mobile data usage increases, since in 2009, Facebook's site traffic equated to 1.5% of total Internet traffic on cable and DSL networks.)
MySpace accounts for between 1.5 and 2.5 percent of peak period traffic on mobile networks.
In this report, Sandvine tracks social networking activity across networks including but not limited to sites like: Facebook, MySpace, Twitter, Habbo, and Bebo.  In the charts below, you'll notice that social networking is among the top categories of mobile traffic among the normalized user profile in North America, Europe and the Caribbean and Latin America.  These figures validate my long-held perception that mobile social networking is important to mobile data consumers.  Surprisingly however, among all three regions covered in this study, the Caribbean and Latin America see the highest normalized level of Facebook and MySpace traffic.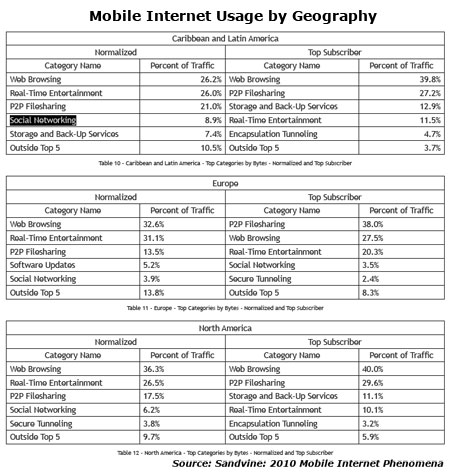 Among "Top Subcribers" (most of whom are laptop users connecting via wireless aircards) in the three regions covered in Sandvine's report, social networking is only a top mobile traffic driver in Europe.  Universally, across all three profiled regions, browsing and Peer to Peer (P2P) filesharing are the top wireless traffic categories for Top Subscribers, and these categories comprise nearly 2/3rds of all traffic among these users.  According to the report:
The Top Subscriber's profile differs from the normalized average in one significant way – the high levels of P2P filesharing traffic.  Service providers who assume that subscribers will not use P2P applications on wireless networks will be dismayed to see that subscriber behavior is fairly consistent regardless of the network technology being used.
Further,
The devices that subscribers use to connect to the network exert a huge influence on the levels and make-up of traffic.  A single laptop can easily account for 100 times the byte usage of an average smartphone, and this reality has major implications for service providers.
What could all of this mean for the future of mobile?
Talk is cheap, but delivering heavy mobile data isn't, and operator revenues are projected to decline…

According to Sandvine's report:
It's generally accepted that in 2009 there were between 300 million11 and 600 million(2) people experiencing the Internet on a mobile device, accounting for roughly $60 billion(3) in data revenues.  While significant, these numbers are dwarfed by projections suggesting between 1 billion(4) and 2 billion(5) users by 2014, and revenues well in excess of $100 billion(6).  And therein is one of the points of concern for wireless providers – while the number of users is expected to triple or even quadruple in the next five years, revenue is predicted to only double.
Check out declining the ARPU rates on voice vs. data in the US: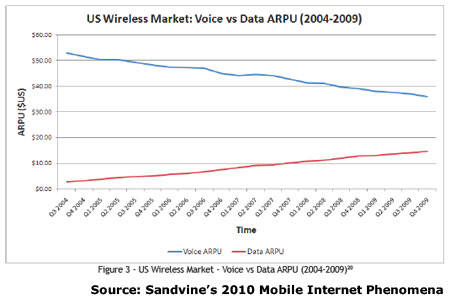 As a growing number of converged devices pull down more and more data over mobile networks, plenty of operators are concerned about the impact that increasing bandwidth demands has on both the reliability of their networks and their bottom line.
Last week, at CTIA, I had several conversations about the the future of mobile data – specifically – how mobile operators might combat the expense and network constraints of "bandwidth suck."  Most of the people I talked to felt that the cost to access mobile data will rise for users as mobile data usage increases.  Others, surmised that operators will eventually phase out "all you can eat" mobile data plans.
If either scenario plays out, "Top Subscribers" will likely be the first to feel the pain – presumably around the launch of 4G devices and corresponding data plans. Why?  One of the biggest consumer benefits of 4G is the increased speed of downloads, and this speed will most likely appeal to heavy data users and come at increased cost.  It's also conceivable that mobile operators could cap data usage and/or download speeds for 2G and 3G consumers in order to entice more subscribers to convert to 4G.
Opportunity knocks…
If consumer data costs rise, mobile developers may feel increased pressure from consumers to reduce "bandwidth suck" without hurting user experience.  If so, there will be an opportunity for developers to create tools to help app owners better understand user behavior and optimize a for better performance… Mobile analytics companies like Flurry, Motally, Medialets, Mobclix and others could evolve to service this need, or we may see new start-ups in this space.  Additionally, there may be an increased need for mobile apps and/or utilities that help mobile users manage their traffic usage (similar to those that existed in the early days of WAP).
There may also be increased opportunities for developers of "bandwidth sucking apps" to partner with operators on Software As A Service (SAAS) rev-share deals (i.e. $X a month for unlimited data usage of a specific app, etc.).  We've seen plenty of deals like this in the past – especially for services like mobile TV, but the appeal of this model may grow with both consumers and app developers if mobile data plans get more expensive and/or "all you can eat" data plans dissolve.
Regardless of what happens to the price of mobile data, the cost of increasing mobile data usage presents a growing opportunity for companies to help operators control data costs.  In particular, based on what I'm seeing, the market for customer insights, mobile traffic management/ policy control, mobile analytics, and mobile optimization products, etc. is heating up…
Early last week I talked a bit about how Openwave and Nielsen are working together to help mobile operators better segment and target their mobile data users.  Later last week, at CTIA Wireless 2010, I stopped by the Sandvine booth, and one of their employees told me that within the next couple of months, they'll be launching a tool that helps mobile operators better determine the cost of supporting specific types of users.  These two companies aren't alone. There are plenty of other companies trying to tackle mobile data/traffic issues for operators including:
Opportunities to help mobile operators and developers manage data usage and better monetize users will likely grow as the mobile highway grows increasingly busy.  I'm looking forward to see what sort of new products, services, and companies emerge as operators and app developers look for more efficient ways to manage traffic and monetize users.
Sources:
1. All charts and stats come from Sandvine's 2010 Mobile Internet Phenomena study and the following sources quoted within it:

2. Ross, Jamie. The Mobile Internet Is 10 Year Old: It's Time for a Reality Check. Informa Telecoms & Media.
3. Ross, Jamie. The Mobile Internet Is 10 Year Old: It's Time for a Reality Check. Informa Telecoms & Media.
4. Strategy Analytics. Connected Devices Fuel 1 Billion New Mobile Broadband Subs by 2014.
5. Ross, Jamie. The Mobile Internet Is 10 Year Old: It's Time for a Reality Check. Informa Telecoms & Media.
6. Ross, Jamie. The Mobile Internet Is 10 Year Old: It's Time for a Reality Check.