March 30, 2010 by
Lisa Oshima
|
Developers
,
Mobile
,
Review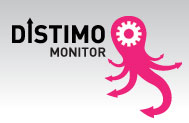 Today, European-based mobile analytics company, Distimo, launched a new, free analytics tool called Distimo Monitor, which allows developers to track the performance of their application across several app stores and compare that performance to their competition.  Prior to this new product release, Distimo already provided both free and customized reports on the mobile application ecosystem through its "Distimo Report" offering.  With Distimo Monitor, mobile application developers can now tailor their own reports to get free insights into their apps' performance.
With so many smartphone applications and websites out there, it's becoming increasingly important for mobile developers to optimize the performance of their applications and to track their apps against those of their competition.  There are a ton of mobile analytics tools available – each with their own benefits.  Some of these tools track in-app performance, others track mobile website performance, others track the performance of various mobile app marketplace, and each add their own flavor to the mix- some offering developers pure analytics, others offering advertising optimization.  Among the leaders in this space are Distimo, Flurry (which recently merged with Pinch Media), Motally, MobClix, Medialets, and others.
Distimo Monitor doesn't require developers to insert a piece of code into their app, so it doesn't do things like allow developers to insert ads or create click maps of what users are clicking on inside the application.  However, it does give mobile developers a free and easy way to comparatively track app performance across various distribution channels and competitive landscapes.  It is currently available for developers with apps on the iTunes app store, and those Apple developers can also track their Android apps on the service as well.  Soon, Distimo will be launching independent support for Android Market and after that, other app stores including BlackBerry App World, Nokia Ovi Store, Palm App Catalog, Windows Marketplace for Mobile, and carrier and independent stores like Verizon VCast and GetJar.
I ran through the demo here, and snapped a few screen shots (below) to give you a better feel for what the Distimo Monitor can do:
You can see an overall performance dashboard, which combines revenue and download data:

You can determine how many people have downloaded your app (or update) worldwide or in specific regions: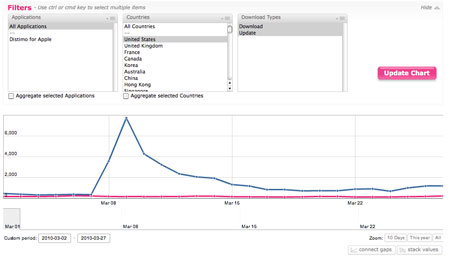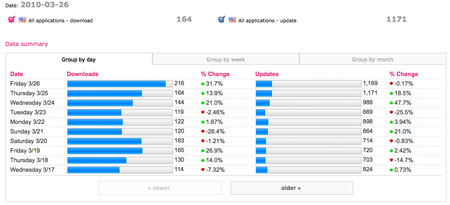 You can track the revenue you've made on one or more of your apps in whatever currency you're most comfortable: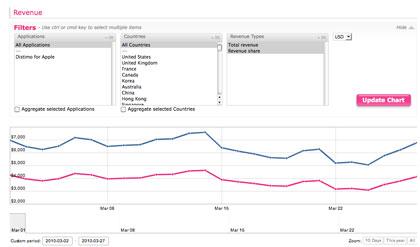 Overall, Distimo Monitor looks to be a great tool to help mobile developers gauge and respond to app performance.  The only thing I wish it would do that it doesn't is provide real-time data. And, that's not something anyone can do until the mobile app stores expose more data to analytics vendors.  In the meantime, having a day-long lag in data is far better than having no data at all.  You can sign up for Distimo Monitor here.