March 19, 2010 by
Lisa Oshima
|
Consulting
,
Developers
,
Mobile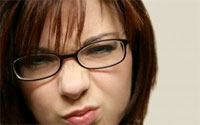 Last week, I wrote a post with tips on staying productive in the office. This week, a colleague sent me a 2009 Harvard Business Review article on another blight on office productivity… "mean girls" (meeoow!). That's right, folks, the Harvard Business Review published a very serious article on the negative impact of "mean girls" in the workplace.  According to the article:
Woman-on-woman bullying, as women have officially become 50% of the workforce for the first time according to the Shriver Report issued last week. According to a 2007 Workplace Bullying Institute survey, though the majority of workplace bullies are men (60/40), female bullies target other women 71% of the time. Additionally, female bullies more frequently engaged in under-the-radar behaviors such as sabotage (53.7% of female vs. 39.9% of male bullies) and abuse of authority (50.2% vs. 44.7%), as compared to the more observable form of verbal abuse engaged in by more male (57.5%) than female bullies (47.1%).
It's been at least a decade since I worked with someone I'd classify as a "mean girl"… This got me to wondering whether I'm lucky, or whether it has something to do with working in tech.  I think it's probably a combination of both.
I've been incredibly lucky to work with smart, fun, and interesting people over the years- both men and women.  In my experience, the women in tech (particularly in mobile) are generally supportive of each other, not divisive.  I think this is partially because in technology, women are the minority… In major cities all over the world there are all sorts of great organizations supporting women in tech: Women 2.0, Girl Geek Dinners, She's Geeky, etc… The list goes on.  The most successful women I know in tech, simultaneously take no prisoners and seek out ways to help their colleagues succeed, regardless of their sex.  Don't get me wrong, I know there are mean girls out there, but I don't often see them with their claws out in technology companies.
I suspect that the tech community may be at least a bit more accepting of differences and less tolerant of mean girls bullying than other industries.  If you want to build cool products, you need to collaborate with your peers and accept others' ideas and viewpoints – even when they're vastly different than your own.  Particularly in Silicon Valley, where so many of the most amazing technical innovations come from (what I jokingly refer to as) the 'socks and sandals' crowd, you'd be a fool to bully someone that's different than you are… At the end of the day, we're all tech geeks.
I'd be curious to hear what other women in tech think…  Am I THAT lucky, or is the "mean girl" really as prevalent across industries as the Harvard Business Review article makes it sound?