January 7, 2010 by
Lisa Oshima
|
Uncategorized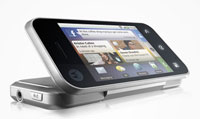 Yesterday, I attended the AT&T Developer Summit at the Palms Hotel in Las Vegas.  It was one of the best mobile developer events I've attended in recent memory, not the least because AT&T shared some of it's best announcements with mobile developers first…
The highlights for me include AT&T's announcement of many new phones in 2010 including AT&T's first Android phones from Motorola (one of my former clients) featuring Motorla's latest syncing software, MOTOBLUR), Dell and HTC. AT&T also announced its first Web OS phone from Palm, Inc. (also one of my former clients).
AT&T promised several positive changesto AT&T's developer program including improved conversations with and support of developers via live chat and phone.  They also announced through a partnership between AT&T, Orange and America Movil, which will help streamline the app submission process for developers on all three operators' networks.
Here you can see AT&T's Ralph de La Vega talking about AT&T's strategy for 2010. Among the strategic announcements was a new focus on mid-tier mobile devices that make messaging easier.  AT&T is classing these devices as QMDs – Quick Messaging Devices.
There was a lot of talk on behalf of AT&T about its network enhancements and, unsurprisingly, very little conversation about consumer complaints about calls dropping.  One of the biggest surprises of all is that AT&T didn't talk much about the iPhone or its partnership with Apple (who, along with Palm was MIA from the stage).
However the highlight of the show was that everyone who attended the 4:50 presentation from Motorola won a Motorola Backflip phone (to be mailed at a future date).
Below, are my tweets from the AT&T Developer Summit… From most recent to oldest in descending order):