September 12, 2009 by
Lisa Oshima
|
Developers
,
Events
,
Mobile
,
Review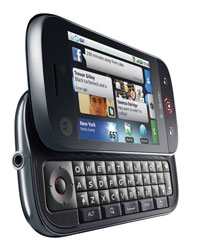 When I watched Sanjay Jha, co-CEO of Motorola and CEO of Motorola Mobile Devices, announce the MOTO CLIQ™ (which will be called MOTO DEXT™ when it launches in the rest of the world) with MOTOBLUR at Mobilize 09 on Thursday, something interesting happened… something that I haven't seen in a long time. The audience got visibly excited about Motorola.  Did they seem as excited as they seemed about Apple when Steve Jobs announced the iPhone 3G? Maybe not, but they were genuinely interested, and at least among the people around me, there was a palpable sense of relief that Motorola announced an innovative device and software.

Motorola calls the CLIQ the "first phone with social skills."  I've seen plenty of Motorola phones with 'social skills' (ShoZu is pre-loaded on a variety of Motorola devices), but this one is notably different than Moto's other socially aware phones because it goes deep into PIM as well as going across social networks. It's got MOTOBLUR, which automatically syncs contacts, posts, messages, photos, leveraging social services including Facebook, MySpace, Twitter, Gmail, Photobucket and others to deliver messages, work and personal e-mail, and info on LastFM to the home screen of the device.
MOTOBLUR is a widget based, so users can add different components, based on which social networks they use.  In one click, you can send your status to all of your social networks or just on, depending on your preference.  It has a "happenings" section, which allows you to see what's "happening" across social networks.  When you get a message from one of your social nets
1 click access to social status… send your status to all of your social networks or just one – you choose
Live access to what's happening across social network "happenings"
Reply to messages via SMS, @reply on Twitter, Facebook message, etc. in one easy interface in whatever way you're connected to your friends
Messages Widget: you can see all of your messages coming into one widget on the homescreen-regardless of which means were used to send the message. All messages organized in easy to read streams. You can use emoticons, bold, color, etc. when you reply to messages.
You can get a social address book view.  When people update their status updates, Moto Blur will update it on your phone automatically
When you receive a call, you'll see someone's status update.
If your device is lost or stolen, it can be found with integrated GPS and remotely wipe the data using a online portal.  Your data is safely stored on Moto Blur servers. The minute you get your phone back, it automatically is updated with all of the info that was on your own phone.
Some additional useful features of the CLIQ include: 3G, wi-fi, 5Megapixel camera with auto-focus, the ability to watch video at 24 frames per second, and a standard headphone jack on the device, so that you can use your own headphones on the device.  When it launches on T-Mobile US before the holidays later this year, CLIQ will be available in two colors "Winter White" and "Titanium".
In the "fireside chat" after Motorola's on-stage announcement at Mobilize 09, Om Malik asked Jha if the CLIQ is enough of a device to bring Motorola back. Jha replied something to the effect of, "No, but it's a start."  The response perfectly encapsulated the feeling in the room.  CLIQ is a good start, but Moto has a long road to hoe.  In the next 15 months, Motorola plans to release a variety of devices aimed at bringing its sexy back.
With MOTOBLUR we are differentiating the Android experience for consumers by delivering a unique mobile device experience designed around the way people interact today," said Jha. "MOTOBLUR, which will be available on our first Android-powered device and on multiple Android devices in our upcoming portfolio, helps us to create phones that are instinctive, social and smart.
The MOTO CLIQ is a good looking device, and from my first experience, it seems well built. Check it out here next to my current phone the Nokia E71.  It's a bit thicker, but it also has a bigger, slide-out QWERTY keyboard.: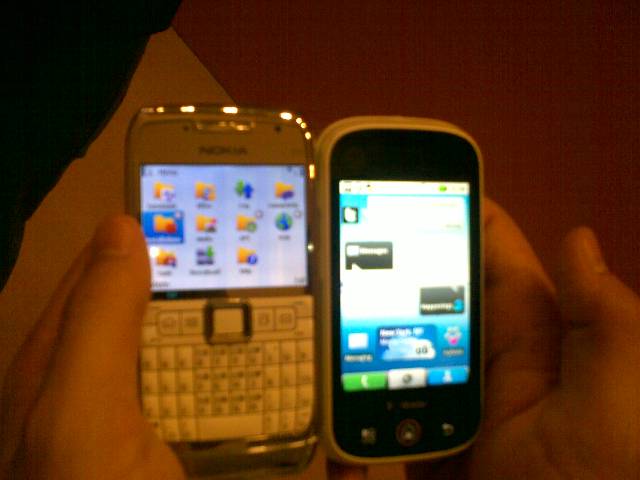 Yesterday, at the Motorola press reception, I had the opportunity to get up close and personal with the forthcoming MOTO CLIQ and speak with the industrial designer, Michiel Knoppart.  He walked me through several of the hardware design features and showed me MOTOBLUR in action.  One of the more interesting anticdotes Knoppart shared was around the back cover on the device.  As you can see below, the "Winter White" version has a dot pattern that once apparently spelled out "Friday Night" (I'm assuming in Braille though Knoppart didn't know for sure which dot language) before they had to remove a dot to accommodate the 5 Megapixel Camera.
The "Winter White" version is a bit more fun and funky, while the Titanium version is a bit more stayed. As a lifetime fan of Friday nights, I'm voting for the "Winter White", which has a nice opalescent white finish.
Here are some of the additional photos I took at the show: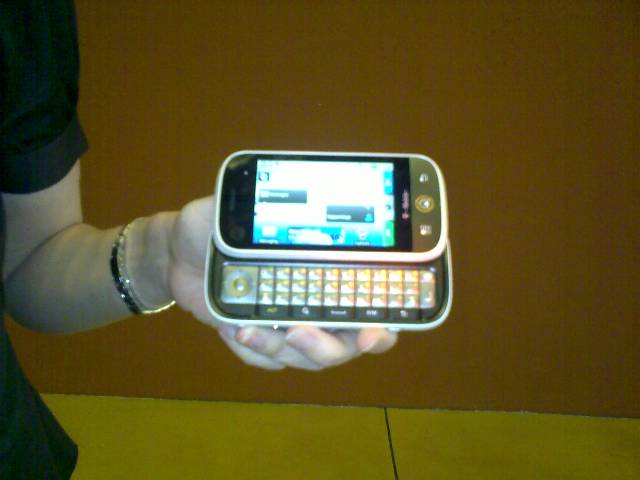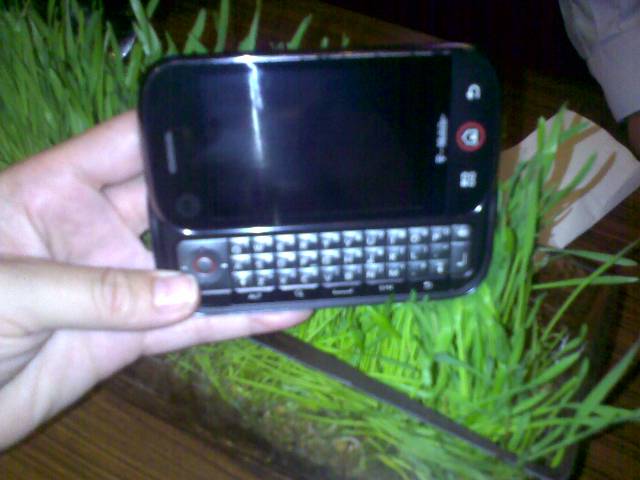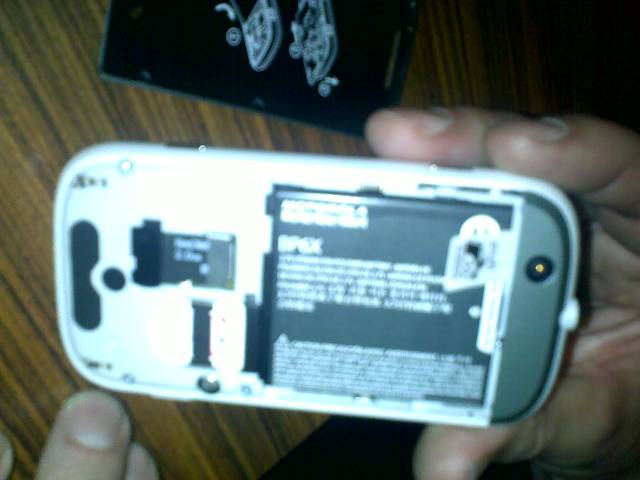 DISCLAIMER: Motorola is a former client. I worked with them on a project that ended Q4 2008.  The project did not involve Android.  The opinions expressed in this post are my own and are not related to my work with Motorola.