September 2, 2009 by
Lisa Oshima
|
Uncategorized
This week, I started a business development consulting project with a San Francisco start-up called Offbeat Guides. This is a long post, but there's some great information at the end about Offbeat Guide's plans for the future and partnership opportunities for transaction-based travel websites, mobile apps, and more…So, it's well worth reading the whole thing.
What are Offbeat Guides?
Offbeat Guides are the first travel guides that users custom-create online, using the latest travel information available on the Internet. The guides are available for over 30,000 travel destinations worldwide and include the same traditional travel guide information and more. For the first time, users can personalize their own guide based on their travel dates, destination, itinerary, and personal travel interests.
What I'm doing at Offbeat Guides – Looking for Partners for the new Reseller Program:

I was brought on as a consultant to help Offbeat Guides find partners for their forthcoming Reseller Program, which will allow online travel sites and ticket brokers to leverage their new API 2.0 (Application Programming Interface). Offbeat Guides Resellers will be able to sell customized travel guides with their logo and relevant product information directly from within the existing purchase flow on your website, simply by adding a check box special offer to their site (not unlike they would for travel insurance or other special offers).
Imagine how much easier life would be if you could purchase a customized travel guide at the same time that you book a flight through an online travel agent, a room at your hotel, tickets for a Broadway or West End Show, or seats to see your favorite band in a far-flung location.  Offbeat Guides' new API will also be useful for business conference organizers, who can add their conference agenda (and let their users add party and meeting information) as chapters into the guides (a quick note to the GSMA: The .pdf and printed versions would be really useful for attendees of Mobile World Congress in Barcelona 2010!).
It takes minimal effort to write to Offbeat Guides' forthcoming API 2.0. Offbeat Guide Resellers own their own customers – from transactions and purchasing to customer relations, and Offbeat Guides will give them full support so that their customer receives an outstanding product, without a hitch. There is a 100% satisfaction guarantee on all Offbeat Guides, and Resellers will get a great revenue share and the technical and marketing resources they need to ensure a successful integration.
I'm excited about the opportunity – both for myself as an avid traveler and for future resellers (there's outstanding revenue potential and value add for end-users).   If you or someone you know works at a transactions-based travel, ticketing, or conference website and want to learn more about becoming an Offbeat Guides Launch partner, ping me at my Offbeat Guides' email account.
Why I love Offbeat Guides:
As a frequent traveler, I love Offbeat Guides. Here are some of the perks:
Offbeat Guides covers some obscure locations – including the kind of places that I've not seen covered by other travel guides.
The guides are highly customized for the traveller:

You don't have to have chapters that you don't want in the book… I can't tell you many times have I wished I could make one of my "Rough Guides" or "Lonely Planet" guides smaller by taking out the chapters I have no use for like: 'Further Afield' (since I often don't have time for day trips when I'm traveling), 'Hotels' (by the time I buy a guidebook, I've usually booked my hotel), 'What to Do with Kids' (since I don't have kids yet), and 'Gay Nightlife' (since I'm straight), etc. In an ordinary guide book unneeded chapters take up a lot of space and weight in a handbag (or backpack).
You can add custom chapters to your book. So, if a friend recommends restaurants or sites to see, you can add them to your Offbeat Guide.

You can purchase your Offbeat Guide as a .pdf (perfect for iPhone, iPod Touch and many other mobile devices, laptops, netbooks, etc.) or a printed book.
Offbeat Guides are inexpensive when compared to other travel books. You can order your own custom .pdf for $9.95 and $24.95 for both the .pdf and printed book (other travel books often sell for as much as $30 and they're not often up-to-date).
How to create your own customized Offbeat Guide:
You can purchase a printed version of your customized guide (book), a .pdf version (useful if you've got a mobile phone that can read .pdf like the iPhone) on OffbeatGuides.com, an Amazon Kindle version on Amazon.com, and soon, you'll be able to purchase through Resellers (i.e. websites where they already go to purchase airline tickets, conference tickets, tickets to concerts/theatre/etc, book hotel rooms, conference websites, etc. You can check out Offbeat Guides and preview your own customized guide in 5 easy steps by going to OffbeatGuides.com.
Here's a quick rundown on the guide-creation process:
1) Pick where you're going. As you type, you'll get a drop down menu that lists a destination: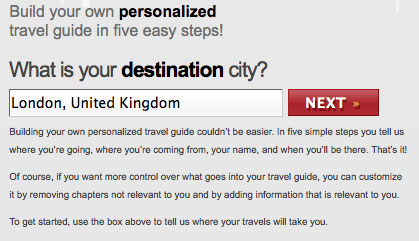 2) Tell Offbeat Guides where you live so that they can provide you with accurate currency conversion rates, timezone information, and electrical conversion rates:

3) Tell Offbeat Guides when you're travelling so that they can provide you with a relevant weather forecast and information about upcoming events:

4) Preview your guide… Add your own custom chapter and delete pre-configured chapters that aren't relevant to your travel needs: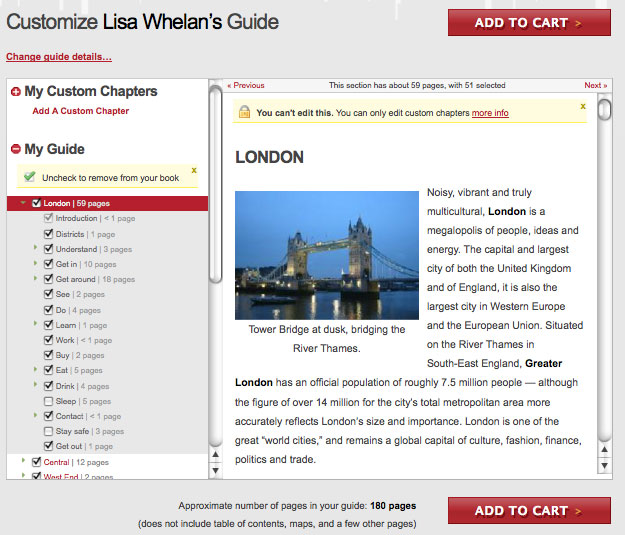 5) Select the format for your guide (Print or .PDF… or go to Amazon.com to order a pre-configured Offbeat Guide for Kindle).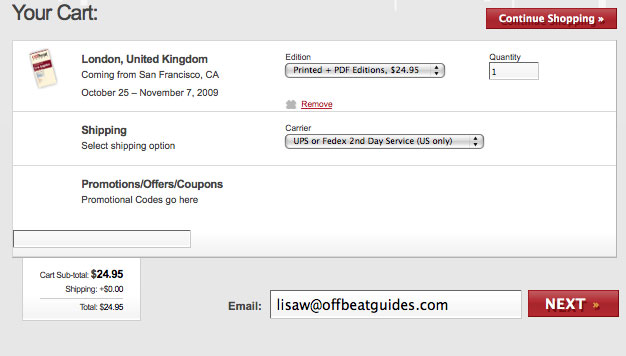 6) Purchase your customized guide.