May 27, 2009 by
Lisa Oshima
|
Review
,
Social Media
Today, I'm diverting from my standard mobile and social media musings to talk about something that's bugging me: laptop bags.  I've been casually shopping for a new laptop bag for weeks now… I currently own the Tumi laptop bag, below.  It's functional, but it's your typical bleh laptop bag- grey, sporty, and not particularly feminine.  I love its durability, but carrying it is killing my mojo.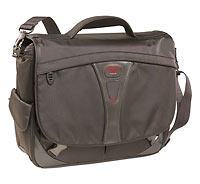 I want to replace it with something black, stylish, contemporary, high-quality, professional, and durable (i.e. no "pleather"/vinyl) – a bag that looks like it was made for a woman – not a 60-year-old salesman or a college student.  Call me demanding, but I won't carry a laptop bag that's pink, blinged out in gold cursive lettering, glittery, is made by Juicy Couture or Betsy Johnson, or pattered with leopard or flower prints.  I'm a business woman in technology, not an eccentric fashion maven, college student, or somebody's "boo".  If I showed up to a meeting with a bag like this, I'd feel ridiculous: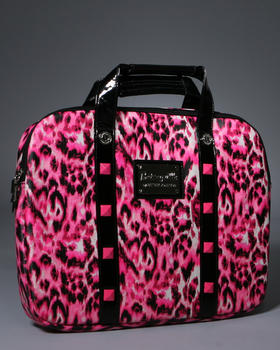 If like me, you assumed that finding a suitably professional, feminine laptop bag in San Francisco (the mecca for professional women in tech) would be easy, you'd be wrong.  I've been to every store I can think of that might carry what I'm looking for… Tumi, Longchamp, Kate Spade, Kenneth Cole, Macy's, Nordstrom, Cole Haan, 9 West, Samsonite… You name a popular store in San Francisco that might carry a laptop bag that looks like it was made for a woman, and chances are, I've been there.  Here's what I've found so far, and the flaws:
Macy's and Nordstrom didn't have any laptop-specific bags in stock.  Longchamp, Kenneth Cole, Cole Haan, and 9 West stores all carry beautifully stylish handbags, which they suggest you use as a laptop bag by inserting a laptop sleeve into your bag.  I've fallen victim to this philosophy twice before and won't do it again.  The problem is that a 15 inch laptop, mobile phone, notepads, pens, wallet, etc. are cumulatively heavy, and most standard handbags – regardless of size – aren't made to carry that amount of stuff.  So, inevitably within 2-3 months of owning a big purse and using it as a laptop bag, the stitching on the handles comes loose.  The other problem with this strategy is that the handles of most purses aren't designed to be comfortable when you're carrying 15 + pounds….It's important to have a handle (or handles) that won't indent your shoulder.
The Kate Spade shop had a feminine looking bag, but it looked uncomfortable… The long handle was tacked onto the bag with those metal clips that probably squeak and/or jangle while you walk, and the un-reinforced, short handles didn't look like they'd stand the test of time for someone who travels a lot with their laptop.  Plus, it was only in brown: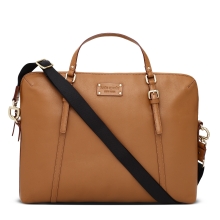 Samsonite carried mostly masculine bags… The closest I got to what I was looking for was this, but it's still unisex: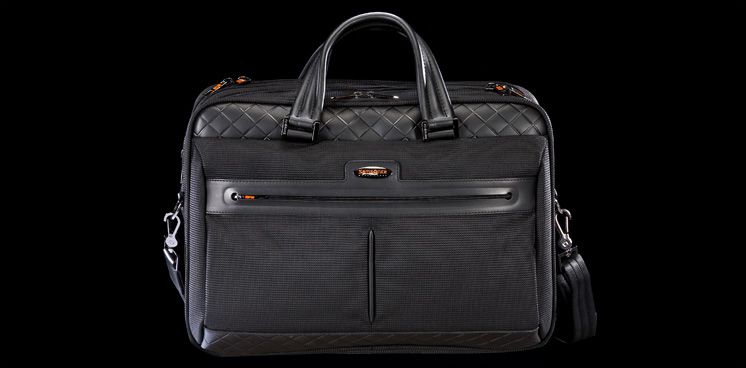 The Tumi store carried several laptop bags… for men.  Well, okay, they were "unisex", but really, they look like they were designed for someone's dad or a metro man: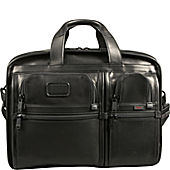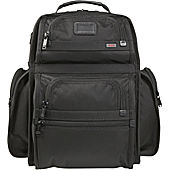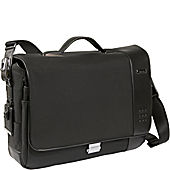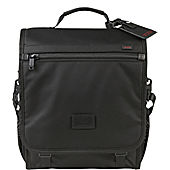 Don't get me wrong… I love men, but I don't want to look like one.  The only Tumi option I found that looks remotely feminine in black – capable of handling a 15 inch laptop is this one: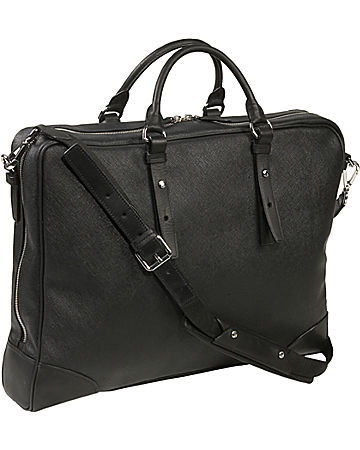 And, yet it's got the same problem the Kate Spade bag has… The small handles look like they're not meant to carry a lot of weight, and the big handle looks like it was an afterthought – held on by those annoying metal clips that look like they belong on a horse bridle – not a $500+ bag.
Until today, I resisted the temptation to look online because it's difficult to judge the quality of a brand you've never heard.  But, after checking every store I could think of and having no success, I went for it.  I did a google search for "woman laptop bag", and by page 20, I'd only found a couple of options that looked decent.  The vast majority seem flimsy or remind me of one of the following:
a "murse" (man purse)
a man's briefcase
a diaper bag
the Betsy Johnson bag pictured above
Among the halfway decent options most are from a company called Kenna… Unfortunately, the one in black is only available for a 13-inch laptop bag.  Another option I found was from Think Geek: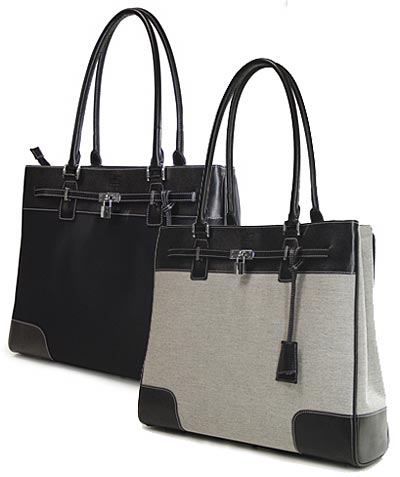 Careerbags.com had some good choices as well, and Targus has one good looking option, though it's not all black, and the spec sheet doesn't specify whether the handles and trim are leather or vinyl, so I'm assuming they're the dreaded pleather.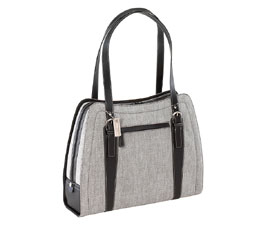 Overall, I'm bewildered by the lack of selection out there.  I would have thought that at least one company would've embraced the opportunity to design a line of classic, stylish, durable, and feminine laptop bags and generate millions of dollars from professional women who don't want to look manly or cheap when they carry a laptop.  If there's one such company out there out there, I've missed it, and they're not embracing social media to effectively target their audience.
I've not bought anything yet… I'm still hoping I've missed the needle in the haystack.  If you've got recommendations, please comment or ping me on Twitter.  Similarly, if you're a laptop bag designer and are looking for a seasoned beta tester, I'm ready to volunteer!