May 18, 2009 by
Lisa Oshima
|
Developers
,
Mobile
,
Review
Last Thursday, the Windows Mobile Developer Team (@wmdev) announced via Twitter that Windows Mobile 6.5 is done:
"For the record, Windows Mobile 6.5 is DONE… complete… looks really good IOHO and every bit functional. ping us if u want to know more."
I'm excited to hear about this Windows Mobile release.  Though, I switched to a Nokia E71 last week (largely for the form factor), until then, I'd been using Windows Mobile phones as my primary mobile devices since I started working on the first Windows Mobile Palm Treo in 2005.  Windows Mobile is a robust OS, though from a usability perspective, in previous versions, it's had some oddities, which took getting used to.
In Windows Mobile 6.5 Microsoft seems to have addressed several of these usability issues by introducing a new, friendlier user interface, gesturing capabilities, and these cool features:

There's a better, i-phone-esque icon display: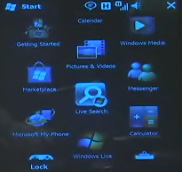 Even when your phone screen is locked, you can see when you have an upcoming appointment, missed calls, and voicemail.

Fast, iPhone-esque screen with a touch screen slider.  Improving on iPhone's unlocking mechanism, instead of just unlocking the phone, by swiping the screen from side to side, you can unlock the phone or execute a task, if there's a call to action.  So, for example by swiping left to right on the voicemail icon, you can unlock the phone and dial your voicemail in one go: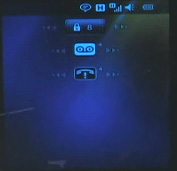 There's a new start-screen with an improved touch screen interface with enhanced gesturing ability… The screen will highlight your selection (i.w. what you're touching) before you've selected it.  This is especially helpful if you've got big fingers… For example, in the screen shot below, you can see that the user is about to select "voicemail".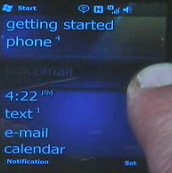 As you can see from the screenshots above and below, there are active icons, which means that you can see live information from your start screen without going into each application.  See the "4" next to "phone" above and below?  That's indicating that you've got four missed calls.  The "3" next to voicemail indicates that you've got 3 voicemails. By touching on "text" which has a "1" next to it in the above screen and gesturing to the right, you can see the text, without opening your text messaging app (see below message from Dale Coffing):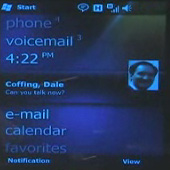 The new version of Microsoft Office Mobile is built into ROM.  So, when you open email, you can immediately click on a Word, Powerpoint, or Excel attachment and it will automatically launch the application.  You don't need to download Office Mobile separately… It's now just like using your PC.
Internet Explorer:

IE mobile has the same engine from the desktop version 6 on the mobile phone.
You can gesture left and right from the Start screen to open your bookmarked favorite sites very quickly – without having to navigate there from inside Explorer.
Flash now works on Internet Explorer mobile!
You can now enter search queries where you'd normally put the URL, and if IE recognizes you haven't entered a proper URL, it'll do a web search (MS Live) for the terms you've entered.
Zooming is now very easy… There are useful WYSIWYG touch screen features that allow you to zoom in and out of web pages.

MyPhone service is free and part of WM 6.5. With it, you've got the ability to do mobile back-up and sync to the cloud… Contacts, calendar, apps, text messaging, etc.  (200MB of available storage).  It allows you
Windows Marketplace app store will be on WM 6.5
You can see a full demo of Windows Mobile 6.5 here.  If you're a Mac user and have trouble with Silverlight, select 'download' to see the video.