May 5, 2009 by
Lisa Oshima
|
Developers
,
Enterprise
,
Mobile
,
Review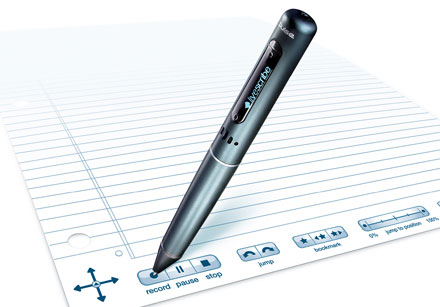 I'm a big fan of the Pulse Smartpen from Livescribe.  If you're unfamiliar with this work of genius, it's a computer in a pen.  It allows you to record what's being said as you take notes and links the two together, which makes it much easier to listen to everything someone is saying rather than struggling to write it down in your notes as they're saying it.
Here's how it works: There's a high speed infrared camera embedded at the tip of the pen that uses a dot positioning system (DPS) to take 72 pictures per second of my notes.  The infrared camera tracks where I'm writing based on the camera's viewing of microscopic dots in my dot paper notebook, while it records what's being said.  So, when I go back to my notes and point my pen on what I've written, I can hear exactly what was being said when I was making a particular note.  You wouldn't believe how useful this is for interviewing people, taking notes in seminars, etc.
Once I've taken the notes, I can transfer the notes and the audio recording to my computer via USB using the Livescribe Desktop.  I can search for words, share my notes with a community of like minded users via a "pen cast", and make my notes into flash movies. I don't really use these last two features that often, but I can see how useful it would be if you were a student sharing notes.  As of today, you can even embed a pencast into your blog!  I don't have a pencast of my own that's particularly relevant to share, so I'll just use one of theirs to illustrate the point:
As much as I love the Pulse Smartpen, there are a handful of things I want Livescribe to extend the magic to business users…
Build-in bluetooth:

How great would it be if my pen could automatically sync to my mobile phone and laptop without a USB cable?!
I'd love to see the notes I've written appear on my smartphone screen and have the ability to automatigically send those notes and audio recordings to my various social networks via ShoZu or a similar application.

Add highlighting capability. I'd love to use the pen not only to write notes, but as a digital highlighter as I'm reading.  I don't think this would cause copyright issues, assuming users were given guidelines about how much they could highlight from a particular chapter, where they could send it, etc.
Add a "record" button on the pen itself.  It would be great to use the Pulse Smartpen as a Dictaphone very quickly, even if I don't have my notebook handy.
I'd like the pen a little thinner… I know, I know.. There's a lot in there!  It's hard to make it thinner.  But, I'd love to have it just a little thinner, making it easier for us ladies to use.  It's usable as is, but narrowing it just a bit more would be ideal.
Target mobile developers.  To do this, LiveScribe would need to have a wireless component (i.e. bluetooth built in).  LiveScribe has a developer program. I'd love to see the outreach of this program extended and a marketplace launched to make it easy to find compatible apps.
My current Pulse Smartpen is fantastic. I can't wait to see what Livescribe comes up with next.