April 22, 2009 by
Lisa Oshima
|
Social Media
Do you shutter at the mention of the word "Twitter"?  Have the words "My Face" or "Spacebook" ever crossed your mind or (gasp) lips?  Do you know someone who falls in one of the above (or similar) categories?  Take a deep breath.  You're not alone…  There are tons of good people out there who "just don't get it."
Over the past couple of weeks, I've spoken with dozens of people who haven't signed up for Facebook, Twitter, or any other social sites…When I ask them "why?", they tend to site one of the following excuses:
"Social networking? That's just kid's stuff.  No one my age uses it. Besides, I'm too old to learn it."

"I don't get it. What's the point?"

"I'm too old to learn it."

"I don't have time to learn it."

"I tried X, and it was too confusing, so there's no way I'm trying Y."

"I don't want all that information about myself out there for the world to see."
If one of these excuses sounds like something you've said, or heard…
"Social networking? That's just kid's stuff.  No one my age uses it. Besides, I'm too old to learn it."

First things first – Come on! You're never too old to learn!

Second – it's not "just kid's stuff"…

Blogs and online social networks have become more popular than personal e-mail (Nielsen, March 2009 via eMarketer)

67% of the global population online spends time on online communities, and this amount of time accounts for 10% of the total time spent on the internet! ("Global Faces and Networked Places A Nielsen report on Social Networking's New Global Footprint," Nielsen, March 2009)
On Facebook:

The fastest growing demographic is age 35 or older, and over 2/3 of its users are outside of college.
There are more than 200 million active users.
More than 100 million users log on to Facebook at least once each day.
Check here for the latest stats.

On Twitter:

According to Comscore blogger, Sarah Radwanick:
"Worldwide visitors to Twitter approached 10 million in February, up an impressive 700+% vs. year ago. The past two months alone have seen worldwide visitors climb more than 5 million visitors. U.S. traffic growth has been just as dramatic, with Twitter reaching 4 million visitors in February, up more than 1,000% from a year ago."

Reuter's reporter, Alexei Oreskovic, found:
"Twitter devotees are grayer than one might expect: The majority of Twitter's roughly 10 million unique Web site visitors worldwide in February were 35 years old or older, according to comScore. In the U.S, 10 percent of Twitter users were between 55 and 64, nearly the same amount of users as those between 18 and 24, which accounted for 10.6 percent of the total."
The graph below, provided by Radanawick on Comscore's blog highlights this well: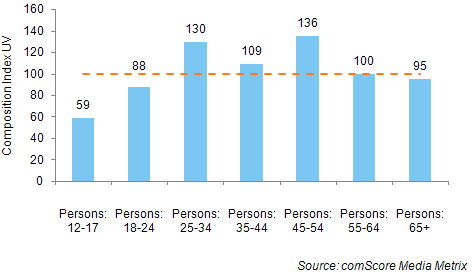 "I don't get it. What's the point?"

The web is becoming more social.  Social media makes it possible to do so many things online:

Stay in touch with friends/colleagues without having to pick up the phone or email
Meet and interact with new people with common interests, regardless of where they live
Learn about new topics
Find jobs
Raise money for charity
Organize groups
Work more efficiently and faster, not harder…Share best practices and useful information about shared topics of interest
Learn about products and services that you enjoy, without having to search far and wide from them. Get recommendations from friends!
And so much more…

Social networks provide a new way for you to keep in touch with your real-life friends and colleagues on-line.
Social media also provides an easy  way to gain insight from friends, colleagues, and strangers through sites like Twitter, LinkedIn, Digg, and countless others (by sharing links, research, events, resumes, jobs, etc.).

Do a search on Twitter for your favorite topic, and you'll see what I mean… Instant, real-time information – right at your fingertips.

"I don't have time to learn it."


You don't have time NOT to learn it! Invest just 10-15 minutes a day, and you'll be a pro in no time.  Social networking sites like Facebook, Twitter, etc. are designed for people just like you!  It's not rocket science, and it is fun.

"I tried X, and it was too confusing, so there's no way I'm trying Y."

That's like saying, "I tried a Brussels sprout once, and it was disgusting.  So, I'm not going to try a chocolate bar." They're two entirely different things. If you tried MySpace several years ago and were turned off by the flashing screens and glitter, rest assured, most social sites aren't like that, and even MySpace is improving in that regard.


"I don't want all that information about myself out there for the world to see."

Privacy settings on social networking sites are getting better and better. On most sites, you can hide your updates from the public. On Facebook, you can control what your different groups of 'friends' see.  To use a real life analogy, if you don't want your neighbors to see you in your Pajamas, make sure to close your drapes.



Despite the tendency to give one of the above excuses, when I dig deeper with people I know, the overwhelming emotion seems to be fear of the unknown.  I'd venture to say that most adults don't like change, and it's natural to fear the unfamiliar. My 87+ year old grandmothers are still mystified by computers because they've never had to use them.  (You should have seen my one grandmother's face last Christmas when my aunts and uncles bought her a computer… It was as though she'd been sucker punched… Lots of confusion and trepidation… Deeply unpleasant to watch.)  But, just because you're not familiar with something doesn't mean that it isn't worth learning.  It's been 4 months since Christmas, and (with the help of a private tutor), my grandmother is starting to get a hang of the computer, proving that it's possible to conquer your fears at any age, and it's never too late to learn.
Much of my extended family has never used a social network or smartphone before, and, as a result, they're mystified by the type of consulting I do for a living.  When I try to explain it to them in "basic" terms, more often than not, I'm met with deeply confused looks, often thinly veiled with a 'smile-and-nod'.  It's as though I'm speaking a foreign language.  And, I guess, to them, I am.  It would be a bit like someone speaking French to me… It all sounds nice, and every now and again, I recognize a word, but at the end of the conversation I really have no idea what they've said.  Continuing with the language analogy, there's no way you're going to learn a new language unless you expose yourself to it and practicing.  The same is true with social media.
So, how can you get over your fears and embrace the socialization of the web?
Don't be afraid to try something new. You don't know if you'll like it until you try it.
Relax, take a deep breath and don't let yourself get overwhelmed. Remind yourself of how you felt the first time you tried something  that you now love – like riding a bike, skiing or visiting a foreign city. You were probably confused at first, but once you got going, it was easy!
Walk before you can run. If you're new to social networking, start with LinkedIn and Facebook first. They're very easy.

LinkedIn is a business networking site where you can easily talk about your professional accomplishments, connect with old colleagues, ask professional questions, look for jobs, post jobs at your company, and more.
Facebook (as I mentioned above) is used by people of all ages, and it's a great way to keep in touch with old friends and share articles, ideas, pictures, and more with people you know.
Once you're familiar with engaging with people you know through LinkedIn and Facebook, try Twitter.  Here are 5 Great Reasons to Twitter and  my tips and tricks for Twitter beginners.

Don't be afraid to ask "stupid" questions. There really is no such thing as a "stupid" question, and asking questions is one of the best ways to learn something new.  Ask your friends, your colleagues and your kids how things work. Don't know who to ask?  Do a quick Google search with your question, and you'll likely find an answer.  Or, feel free to ping me.  Also, follow some of the leading bloggers that talk about social media and technology.  You can find many of them in the right hand column of my blog under "blogroll". Set up Google Reader to consolidate the articles from these blogs in one place.
Explore! Spend 15 minutes a day engaging with different social networks. The more you put into it, the more you'll get out of it.
Once you gain a basic understanding of how social networking sites work, you'll quickly begin to learn that the socialization of the web is more than just hype.  It's the way the internet is evolving, and you can't afford to miss it.